Viral Pic: Newlyweds slammed by wave during wedding photo shoot
Bekah Blakely-Savage and husband Tim were taken out by a wave during their wedding photo shoot. Picture goes viral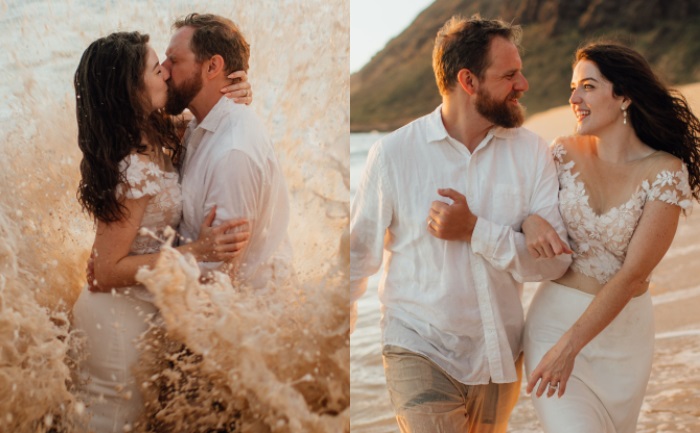 Newlyweds Bekah Blakely-Savage and husband Tim decided to get their wedding shoot done on a beach in Hawaii. Little did they know that they will be swept off their feet by a huge wave as they posed in their wedding finery on Makua Beach. But the photographer Sunny Golden caught the moment on camera. Bekah later posted the photo to Reddit, and it soon went viral.
Check out the viral picture here;
As reported by Fox News, Bekah and Tim Blakely-Savage are a newlywed couple from Texas. They met on Tinder and love soon followed. They tied the knot in Alaska and treated themselves to a post-wedding trip to Hawaii The couple enlisted Hawaii-based photographer Sunny Golden to shoot them in their wedding outfits with the ocean as a backdrop. Bekah wore a two-piece wedding ensemble, while Tim opted for khakis and a linen shirt. But were soon drenched as a wave crashed over them during the photoshoot.
Their photographer caught the exact moment when the wave crashed on the couple. The picture soon went viral on social networks.
Their wedding outfit was ruined but a local dry cleaner, Fort Worth's Comet Cleaners, miraculously managed to salvage it when they returned home.
Also Read: BLACKPINK To Release Summer Diary Featuring Their Vacation In Hawaii