List Of Federal And State USA Holidays 2019
List of National and Regional Public Holidays of United States in 2019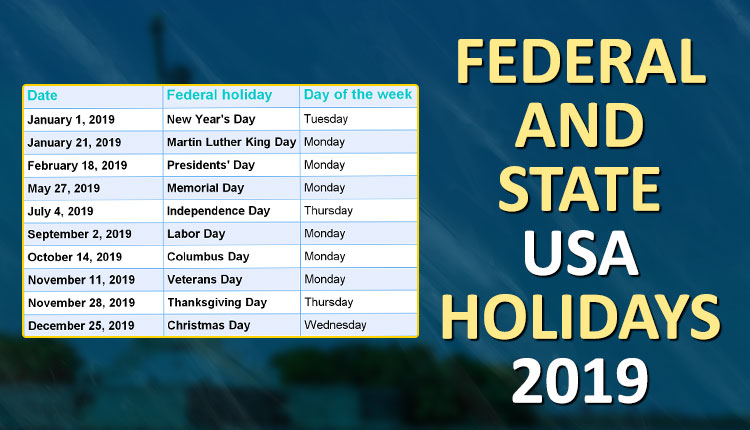 Like all countries around the world, the USA has several Holidays too which includes federal regional government holidays and popular events. In this article, we will be talking about USA Public Holidays, USA Holiday calendar for 2019, and Public Holidays declared in the USA.
We provide the USA Holiday Calendar 2019 in a Table format so you can easily take out its print. The United States of America has 10 public holidays which are recognised throughout the country as common holidays. There are other Holidays which are recognised in individual regions and referred to as regional holidays.
Some of the organizations may choose or deny giving their employees a day off during Federal holidays. Notably, the bank holidays are similar to Federal holidays. Most of the public holidays are basically influenced by culture, religions and special events in the history of the United States. The holidays are recognized and published by the Federal government.
On many federal holidays, the streets of the US are always full of people as they celebrate it like a festival. Different holidays call for different response and observations. During these federal holidays, retails stores capitalize significantly on sales of different costumes and merchandises.
Here Are National and Regional Public Holidays of the United States in 2019
| Day | Date | Holiday | Comments |
| --- | --- | --- | --- |
| Tuesday | January 01 | New Year's Day | |
| Friday | January 18 | Lee-Jackson Day | Virginia. Friday before 3rd Monday in January |
| Saturday | January 19 | Confederate Heroes' Day | Texas only. Always celebrated on 19 January |
| Monday | January 21 | Martin Luther King Jr. Day | 3rd Monday in January |
| Monday | January 21 | Civil Rights Day | Arizona, New Hampshire. 3rd Monday in January |
| Monday | January 21 | Idaho Human Rights Day | Idaho. 3rd Monday in January |
| Monday | January 21 | Robert E Lee's Birthday | Alabama, Mississippi only. Third Monday in January |
| Tuesday | February 12 | Lincoln's Birthday | Connecticut, Illinois, Missouri, New York. |
| Monday | February 18 | President's Day | 3rd Monday in February. Not all states |
| Monday | February 18 | Daisy Gatson Bates Day | Arkansas only. 3rd Monday in February |
| Sunday | February 24 | Edward Dickinson Baker Day | Honors an Oregon Senator who died in the Civil War |
| Saturday | March 02 | Texas Independence Day | Texas only. Always celebrated on 2 March |
| Monday | March 04 | Idaho Day | Idaho only |
| Tuesday | March 05 | Mardi Gras | Alabama, Louisiana only. |
| Tuesday | March 05 | Town Meeting Day | Vermont. 1st Tuesday in March |
| Monday | March 25 | Seward's Day | Alaska only. Last Monday in March |
| Tuesday | March 26 | Prince Jonah Kuhio Kalanianaole Day | Hawaii only. |
| Sunday | March 31 | Cesar Chavez Day | State holiday in California, Texas |
| Monday | April 15 | Patriots Day | Maine, Massachusetts. 3rd Monday in April |
| Tuesday | April 16 | Emancipation Day | Washington DC Only. Weekday closest to April 16th |
| Friday | April 19 | Good Friday | CT, DE, HI, IN, KY, LA, NJ, NC, ND, TN |
| Sunday | April 21 | San Jacinto Day | Texas. Always celebrated on 21 April |
| Monday | April 22 | Confederate Memorial Day | Alabama. 4th Monday in April |
| Monday | April 22 | State Holiday | Georgia, April 26 or nearest Monday |
| Friday | April 26 | Arbor Day | Nebraska. Last Friday in April |
| Monday | April 29 | Confederate Memorial Day | Mississippi. Last Monday in April |
| Wednesday | May 08 | Truman Day | Missouri only. 8 May or nearest weekday |
| Friday | May 10 | Confederate Memorial Day | South Carolina only. 10 May or nearest weekday |
| Sunday | May 12 | Mother's Day | 2nd Sunday in May. Not a public holiday |
| Monday | May 27 | Memorial Day | Last Monday in May |
| Monday | June 03 | Jefferson Davis' Birthday | Alabama only. First Monday in June |
| Tuesday | June 11 | King Kamehameha I Day | Hawaii only |
| Sunday | June 16 | Father's Day | 3rd Sunday in June. Not a public holiday |
| Wednesday | June 19 | Emancipation Day | Texas only. Juneteenth |
| Thursday | June 20 | West Virginia Day | West Virginia only. Always celebrated on 20 June |
| Thursday | July 04 | Independence Day | —– |
| Wednesday | July 24 | Pioneer Day | Utah only. 24 July or nearest weekday |
| Monday | August 12 | Victory Day | Rhode Island only. 2nd Monday in August |
| Friday | August 16 | Bennington Battle Day | Vermont only. 16 August or nearest weekday |
| Friday | August 16 | Statehood Day | Hawaii only. 3rd Friday in August |
| Tuesday | August 27 | Lyndon Baines Johnson Day | Texas only. Always celebrated on 27 August |
| Monday | September 02 | Labor Day | 1st Monday in September |
| Monday | October 14 | Columbus Day | 2nd Monday in October |
| Friday | October 18 | Alaska Day | Alaska only. 18 October or nearest weekday |
| Friday | October 25 | Nevada Day | Nevada only. Last Friday in October |
| Tuesday | November 05 | General Election Day | MT |
| Monday | November 11 | Veterans Day | Except Wisconsin |
| Thursday | November 28 | Thanksgiving | 4th Thursday in November |
| Friday | November 29 | Day after Thanksgiving | Day after 4th Thursday in November |
| Friday | November 29 | Lincoln's Birthday (observed) | Indiana only. Day after 4th Thursday |
| Tuesday | December 24 | Christmas Eve | KS, KY, MI, NC, ND, OK, SC, TX, VA, WI |
| Tuesday | December 24 | Washington's Birthday (observed) | Indiana only. |
| Tuesday | December 24 | Washington's Birthday (observed) | |
| Wednesday | December 25 | Christmas Day | |
| Thursday | December 26 | Day after Christmas | North Carolina, South Carolina, Texas, Virginia. |
| Tuesday | December 31 | New Year's Eve | Kentucky, Michigan, Wisconsin only. |
Also Read: List Of All Bank Holidays & Government Holidays In India In 2019