Corporate Tax Rate To Cut From 30% To 25.2% To Boost Companies, Announces Nirmala Sitharaman
Following Nirmala Sitharaman's announcements, the markets immediately rose with the benchmark Sensex surging over 1,600 points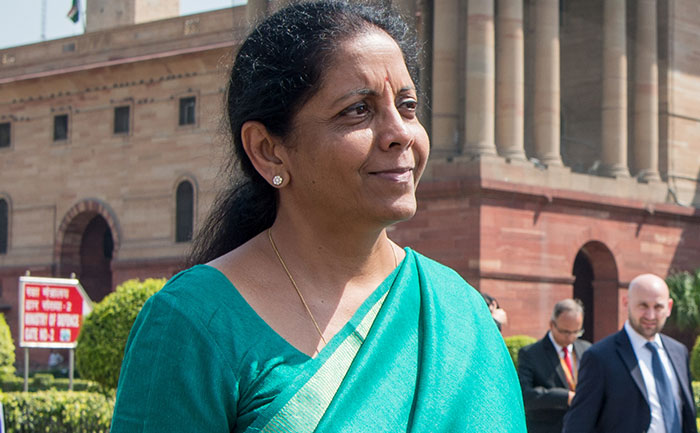 Finance Minister Nirmala Sitharaman on Friday proposed to reduce corporate tax for domestic companies and new local manufacturing companies via an ordinance. In today's press conference, Sitharaman announced that they are going to waive off almost Rs 1.45 lakh crore per year as a corporate tax.
Following the announcement, the Sensex recorded rise with the benchmark surging more than 1,600 points and Nifty climbing above 10,900 marks, after days of choppy trading.
In a press conference, Sitharaman said, "Any domestic company gets an option to pay income tax at a rate of 22% subject to condition that they will not avail any incentive. Enhanced surcharge introduced in Budget shall not apply on capital gain arising on sale of equity shares in a company liable for Securities Transaction Tax."
Finance Minister Nirmala Sitharaman: The effective tax rate for these companies shall be 25.17 % inclusive of all surcharge and cess. https://t.co/nFJoh5ypch

— ANI (@ANI) September 20, 2019
The Finance Minister has also announced that Domestic firms incorporated on after 1st October 2019 that want to make fresh investment in Manufacturing will have an option to pay income tax at 15 per cent.
She said that new affective tax rate shall be reduced from 30 per cent to 25.2 per cent, including all surcharges and is applicable on those companies that aren't availing any incentives. The new tax structure will come into effect from April 1, 2019.
"In order to promote growth and investment, a new provision has been inserted in the Income Tax Act with effect from the fiscal year 2019-20," Sitharaman said.
The automobile sector which is considered as one of the biggest contributors to the Gross Domestic Product has been severely hit by several storms, from credit freeze for customers to falling demand. Notably owing to this,  scores of car-makers have temporarily stopped production and some have drastically cut jobs.
According to a report in NDTV, the GST Council's Fitment Committee, which comprises revenue officials of both Centre and States, has rejected demands for a cut in the tax rate on items ranging from biscuits to car, owing to tight revenue position.
Also Read: Centre Aware Of Pakistan Expanding Nuclear Weapons Capability, Says Nirmala Sitharaman