UP investors meet: Not scared of being seen with industrialists, says Narendra Modi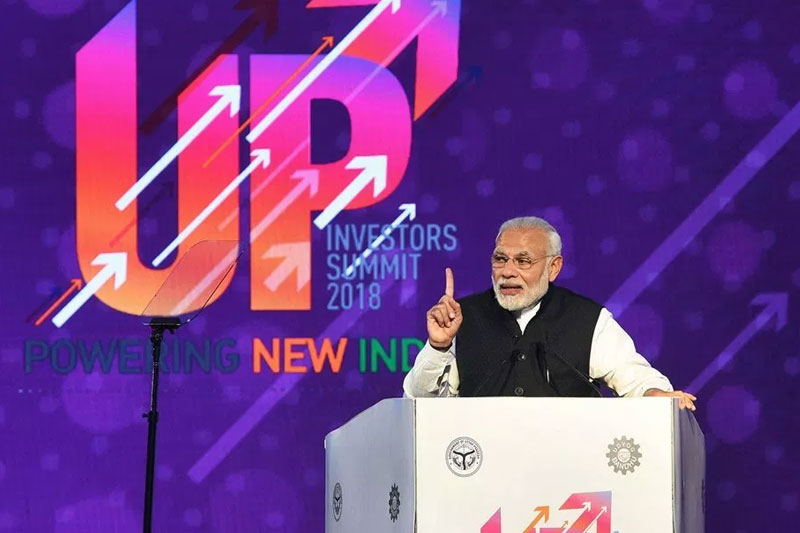 Prime Minister Narendra Modi on Sunday launched 81 investment projects, worth Rs 60,000 crore in the state capital. This is part of the projects that were pledged during UP Investor's Summit in February. Making his fifth visit within a month in UP, the Premier attacked the opposition that he is not afraid of meeting with the industrialists. He said that these industrialists help in building the nation.
PM Modi was seen happy while launching the projects, but didn't miss the opportunity to hit back at Congress who alleged him and his party of protecting alleged fraudsters Nirav Modi and Mehul Choksi. He said, "My conscience is clear", adding, "I am not the kind who is scared of being seen with industrialists."
Taking a jibe at the Congress for supporting corrupt businessmen, PM Modi said, "There are those who don't want to meet them in public, but only behind curtains… there is not one industrialist who has not done a 'shashwat pranaam' (deferential respects) at their homes… Doesn't everyone know whose aircraft these people travel in?"
Modi asserted that it is not appropriate to defame the industrialists as they help in building nation and generate employment opportunities. He said, "Industrialists play an important part in developing the country. Why should we shame them, call them thieves?"
Taking a dig at the previous government who did not initiates such investments, he said that they did not have the will, reports Indian Express. He said, "We want to create an atmosphere where there is no scope for any kind of discrimination. Whatever ills the country is facing today dates back to 70 years of governance."
Along with Union Home Minister Rajnath Singh and Chief Minister Yogi Adityanath, 80 industrialists attended the event. The names include – Kumar Mangalam Birla, chairman of Aditya Birla group, Gautam Adani, chairman of Adani group, Subhash Chandra, chairman of Essel group, Sanjeev Puri, MD, ITC and several others. Previously on Saturday, PM Modi had laid the foundation stone and had inaugurated 99 urban development projects worth Rs 3,897 crore for Uttar Pradesh.