Nubia Alpha Smartwatch With 4-inch Foldable OLED Display Launched at MWC 2019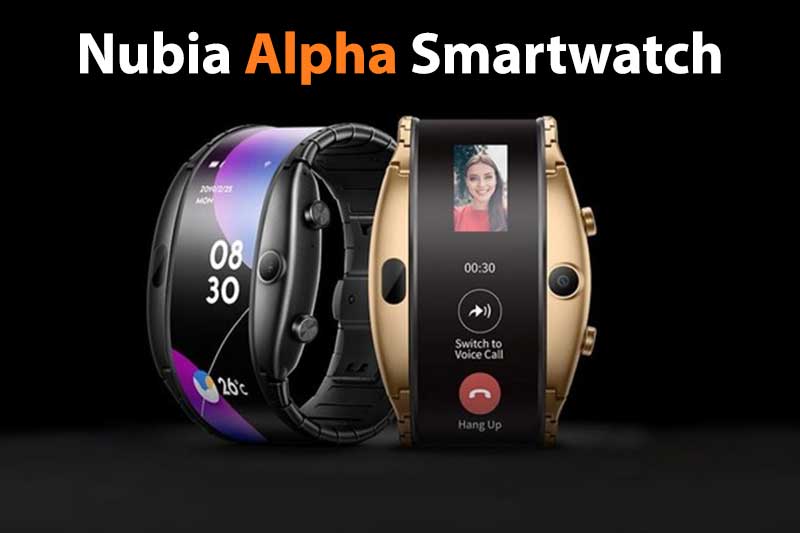 The Mobile World Conference 2019 witnessed several great products launched by many brands but what caught our attention are Nubia's smartwatch and its other products such as Nubia X with dual screen, Nubia Pods, Nubia Mini 5G, Nubia X and gaming mobile phone Red Magic Mars. We have enough information about all the products launched at MWX 2019.
Nubia Alpha Price in India, features and availability
Nubia Alpha smartwatch stole the show due to its outstanding flexible OLED display. The smartwatch of Nubia sports  4-inch touchscreen display that can be worn in your wrist like a normal watch. It has almost the features that your mobile phone has.
The smartphone runs on Qualcomm Snapdragon Wear 2100 chipset and is coupled with 1GB of RAM as well as 8GB of internal storage. The watch packs a 500 mAh battery and company claimed it has the stamina of more than two days. Using its advanced function, users can be able to interact with air gestures, voice commands, and convenient multi-touch control. It also has a 5-megapixel camera that you can use to click pictures and view it in a gallery on the smartwatch.
Apart from all these, users can easily monitor and track activity such as sleep quality, exercise and others. According to the company, users can also set a custom watch face (as if nobody expected that on a 4-inch OLED display) and get all notifications in a glance. It can also stream music via Bluetooth.
The smartwatch is also available in e-SIM variant, in this variant user can make calls, sends messages and even browse the internet is similar to like our phones. The e-SIM makes it a sort of a mini smartphone on your wrist.
The company stated, Nubia has ensured the Alpha doesn't look like weird prototype device. The company is offering the Alpha in two variants — a standard black variant with Bluetooth connectivity for Euro 450 or (Rs 36,200 approximately)  and an e-SIM variant for Euro 550 or (Approximately Rs 44,405 ) There's also an 18k gold-plated variant of the Alpha selling for Euro 650 or (Rs 52,476 approximately).
According to reports, the e-SIM variant to go official in China from April EUR 549 or (Rs. 44,300 approximately) for the Black colour options, and the 18K Gold variant has been priced at around EUR 649 (Rs. 52,400 approximately).
Nubia Alpha Smartwatch Specifications
Display:  4-inch OLED display
Storage: 1GB of RAM + 8GB ROM
Battery: 500 mAh battery
Colour: Balck and Gold
Processor: Qualcomm Snapdragon Wear 2100 chipset