10 actresses who nailed the off-shoulder look
These actress have mastered their ways to carry this style well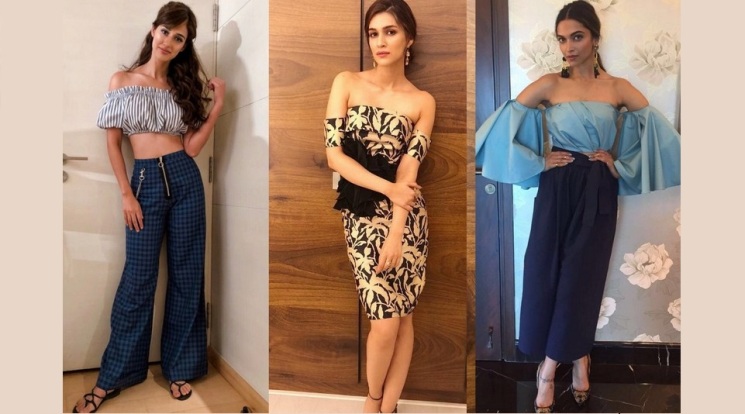 The summer is back and hotter than before. While we are here trying to find ways to beat the heat, some of our B-Town actresses are increasing the temperature trying to slay their looks with off-shoulder dresses.
The off-shoulder trend has stayed in for a while and won't be going away anytime soon. Our top-notch actresses are finding ways to experiment with the style and carry it with an essence of 'oomph'.
Here are 10 actresses who slew the off-shoulder look in style
1. Deepika Padukone
The 'Padmaavat' actress nailed the look with the 'blue-on-blue' theme. Along with the blue, the wide bottomed pants go really well with the bell-shaped sleeves.
2. Sonam Kapoor
While the collar bones are droll worthy, one can't miss out on the unconventionality of the look that Sonam Kapoor has carried with ease. The off shoulder look certainly flatters the 'Khoobsurat' actress. (no pun intended ;p)
3. Jacqueline Fernandez
The Srilankan beauty has her own charm when it comes to fashion. Creating this fusion look with the off-shoulder blouse and the ethnic long skirt is just so perfect.
4. Alia Bhatt
Alia Bhatt wore the Sabyasachi creation and it seemed pretty easy for the actress to carry. The long and heavy earrings add a twist to the usual elegance of the dress.
5. Priyanka Chopra
Wile the formal Miss World can do wonders with her outfits, she certainly has the poise and grace to carry this beautiful skirt-shirt combo. The off-shoulder look is absolutely stunning. Its a great of pampering those collar bones.
6. Kriti Sanon
The dress looks absolutely stunning on this leggy lass. The added aspect of this dress is the off shoulder look. Kriti Sanon sure knows how to play it well.
7. Janhvi Kapoor
The gorgeous daughter of the late actress Sridevi sure knows how to nail a look. The sequins add a bit of charm while the poise held on by the actress make sit look all perfect.
8. NoraFatehi
This effortless look by the Moroccan beauty is all goals for a perfect summer by the sea. All we need is some poise which the actress has and we don't.
9. Tara Sutaria
Tara Sutaria has perfectly made this absolutely simple outfit look great on her. The off shoulder top along with the ruffles is an extremely pretty look which can be preferred for small and happy gatherings.
10. Disha Patani
Sometimes, all that style and fashion needs is patience to think and not efforts to wear. Disha Patani has nailed this off-shoulder as effortless and chic.
While we just wonder how to look good, maybe looking at these glamazons and trying to figure out their style will help us.