Omae wa Mou Shindeiru (You Are Already Dead) is the anime meme that may never die
Fist of the North Star protagonist Kenshiro would use the catch phrase "Omae wa mou shindeiru," after hitting enemies at fatal pressure points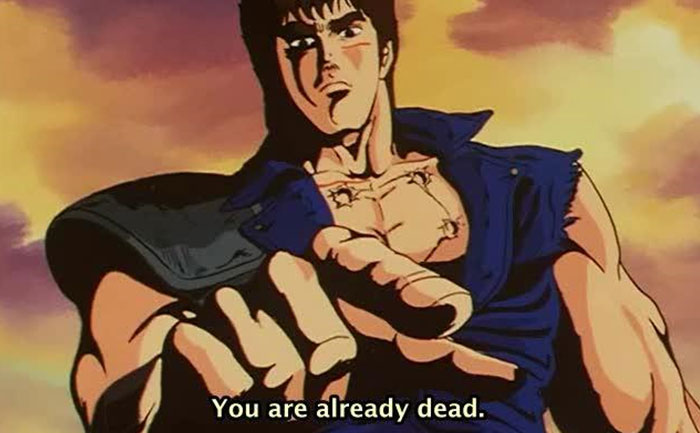 Some memes never die and the "Omae wa mou shindeiru," meme seems determined to be one of them. Originating from the 1980s Japanese comic series Fist of the North Star, the Kenshiro catchphrase has gone on to become a recurring meme. To give a bit more context to the uninitiated, Fist of the North Star protagonist Kenshiro would use the catch phrase "Omae wa mou shindeiru," after hitting enemies at fatal pressure points. The phrase means "You are already dead."
Here is a clip from the Fist of the North Star anime from the '80s with Kenshiro using his famous catchphrase at the end:
However, something weird took place in 2017. Youtube took catchphrase and used it to make these weird creations. Here are some of these videos for your amusement.
These are just some of the thousands of videos out there that use the "omae wa mou shindeiru" as a phrase to represent an unexpected turn of events or a knock out. These videos often use Nani?! as a companion to the phrase. Nani means what and is often used to express disbelief.
These weird YouTube videos and compilations sometimes have million of views reflecting the popularity of the phrase. Tumblr, the homeplace of many a weird memes, has adopted the phrase wholeheartedly. The site has contributed many a memes to build the phrase's legacy. fans often mix the phase with their favorite fandoms to create humorous memes. Some fans put it together with Overwatch:
While others choose the game Doom:
Some fans went in a whole new direction and just referenced daily activities like baking:
There are endless memes of this variety on Tumblr. The phrase is also coupled together with this poem to create a funny little rhyme. "Roses are red / violets are blue / omae wa mou shindeiru."
These Fist of the North Star memes have existed in the fandom underworld for years but gained popularity in 2017.