OnePlus Launches OnePlus 7 Pro With Extraordinary Zen Mode
OnePlus Unveils OnePlus 7 Pro With Stunning Design And Cool Zen Mode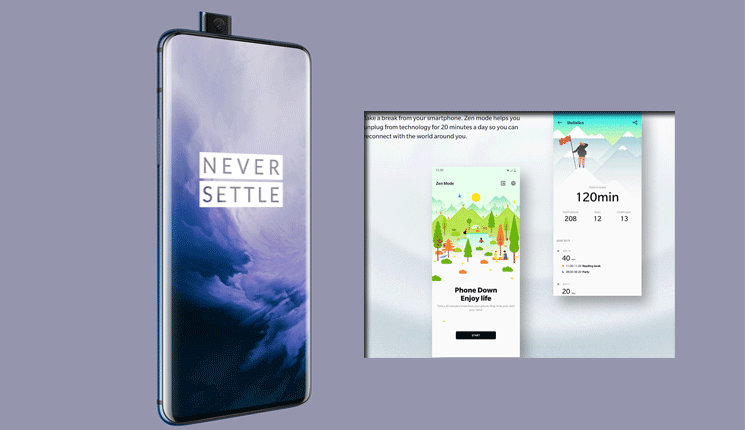 OnePlus has launched undoubtedly two best phones OnePlus 7 or OnePlus 7 Pro simultaneously in New York, London and Bangalore on 14 May 2019. There have already been plenty of leaks and renders surfaced on social media but there were dozens of things to be revealed at the launch event. OnePlus 7 Pro has introduced several features via OxygenOS 9.5 which we have not seen before on any mobile phone such as 'Zen Mode', 'Fnatic Mode' and others.
OnePlus Zen Mode
There is no doubt OxygenOS is one of the best Android forks available in the market and OnePlus did an excellent job of keeping it updated with new features, security updates and Android builds. Curbing mobile phone addiction, OnePlus has decided to introduce Zen Mode in its latest smartphone. Zen Mod will give you time to have some conversation with your friends, family members and loved one.
Notably, Zen Mode is an opt-in feature but once it is activated you would not be able to use your device (OnePlus 7 Pro) for at least 20 minutes. Yes, there is no way to close the Zen Mode feature unless it completes 20 minutes. But, you would be allowed to receive calls and make emergency calls. OnePlus 7 & 7 PRO Launch Event Highlights: Price In India & More
What more you can do during the timing is to take a screenshot and share it on social media once the timing is completed and your phone stars functioning informing that you were truly disconnected. This feature will remind you if you have been using the phone continuously for more than 2 hours. You can also change the setting in Zen Mode and chose when to trigger the alarm.
OEMs had been making all possible efforts to implement some sorts of 'anti-addictive' measures in their device ever since Google Launched Digital Wellbeing with Android Pie, which had all the features such as Wind Down, Grayscale and an infographic showing you how long you used apps.
The main difference between Zen Mode and Google's Digital Wellbeing is that it can not be stopped once you kick off.  It also 'bricks' the device by not letting you receive notifications and open apps. You can still make phone calls and access the camera, though. It may seem a little extreme, but it may be the most effective way of deterring people from looking at their phone.
Also Read: Here's How You Can Save Up To $290 (Rs 20,000) On OnePlus 7 Pro