Opposition failed to make women empowerment and equality their priority: PM Modi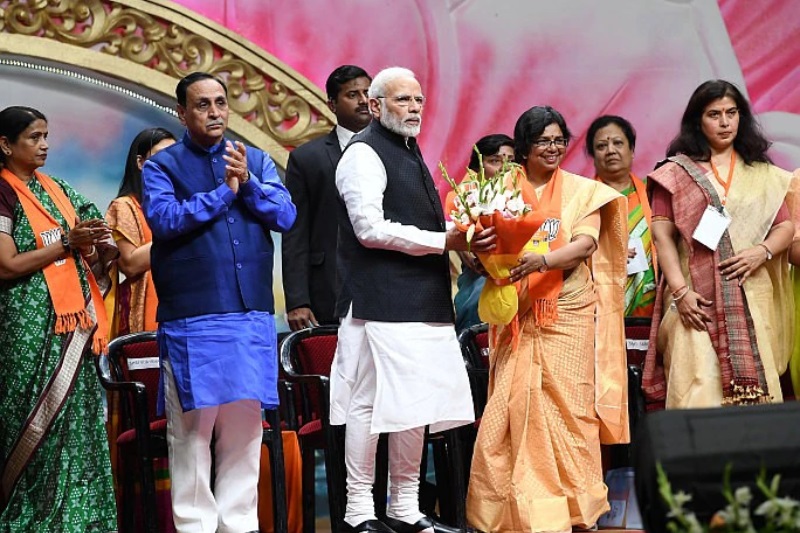 Prime Minister Narendra Modi criticized the Opposition parties, who despite ruling the country for decades, failed to make women empowerment and equality, their priority.
While addressing the National Convention of BJP's Mahila Morcha in Gujarat on Saturday, PM Modi said, "Those parties that ruled the nation for decades and waited for gradual social changes with regards to women, are still making promises. Everybody knows about the intentions and commitment of such parties, who never cared to make women's issues their priority."
In contrast, PM Modi said, the current BJP government is the first government since independence, which has put women at the core of its social welfare schemes such as Ujjwala Yojana, Swachh Bharat Abhiyan and Mudra Yojana.
He further described several key measures taken by his government to empower women in different ways like the Mudra Yojana, whose 75% beneficiaries are women or the provision to register the houses allotted to beneficiary families under the Pradhanmantri Awas Yojana on the name of the women in the family.
Describing how the BJP government ensures women's progress across sections of society, PM Modi said," This government is the first to have two women on its Cabinet Committee on Security as well as to have the country's first female fighter pilot. Moreover, it was for the first time that the Anti-Trafficking Bill has been passed by our government to ensure a safe future for our women and daughters. This is the first time that a government has mandated capital punishment for criminals involved in horrible crimes like rapes. This is also the first time that a Lady Officers' Wing has been approved in the Indian Navy by our government recently."
Concluding his address at the event, PM Modi reiterated his government's commitment to further promoting women's active participation in the society through well-thought and implemented policies.
Reassuring the women Karyakartas of his government's firm resolve to address women's issues at their core by seeking long-lasting solutions to their problems, the Prime Minister said, "All the empowering schemes and initiatives we are implementing for a New India, will further strengthen women's role in our society and ensure their active involvement in every sphere of life."
 Also Read: Bihar seat-sharing deal: BJP, JD(U) to contest 17 seats each, LJP gets 6 in 2019 Lok Sabha elections