Early Morning Military Plane Crash In Pakistan Kills 17
12 civilians are dead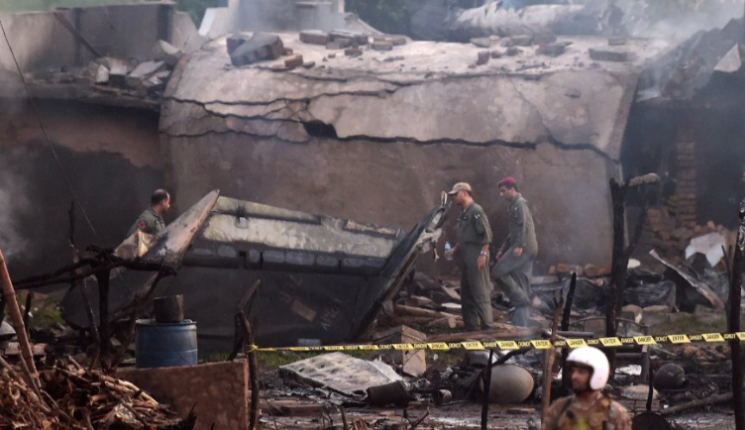 In a gruesome accident of an army plane crash, about 17 people have been found dead. An army plane crashed into a residential area in Pakistan's Rawalpindi early this morning, i.e. 30th July. As this accident has occurred, it has lead to the loss of lives of civilians as well as crew members.
As reported by AFP, the plane belonged to the Pakistani military. It crashed near an upscale neighborhood in the army headquarters. They also reported that while there was smoke at the sight of the crashed aircraft, one could see the broken pieces of the planes. As per quoted by Farooq Butt, a local rescue spokesman, "We have received 17 dead bodies including 12 civilians and five crew members". He also added that further 12 people have been injured in the crash.
#UPDATE Fifteen people are killed when a small army plane crashes into a residential area in the Pakistani city of Rawalpindi near the capital Islamabad, a rescue official says https://t.co/CQr6nVANrb pic.twitter.com/xdOApcoMUW

— AFP news agency (@AFP) July 30, 2019
#BREAKING Fifteen killed as plane crashes in Pakistan: rescue official pic.twitter.com/21f4zchCja

— AFP news agency (@AFP) July 30, 2019
As per the Pakistani aviation safety record, the air crashes have frequented over the years. As per Mohammad Sadiq, "I woke to the sound of a huge explosion. I stepped out of my house and saw huge flames and we rushed to the site." It has also been quoted "People were screaming. We tried to help them but the flames were too high and the fire too intense, so we could not do anything. The dead include seven members of one family and most of them were burned to death."
Even in 2016, the Pakistan International Airlines plane burst into flames after one of its two turboprop engines failed, killing 40 people while traveling to Islamabad.
Also Read: Ethiopia plane crash: UN consultant Shikha Garg among 157 killed