Pakistan Plane Carrying 107 People Crashes Into Houses Near Airport
The Pakistan International Airlines (PIA) plane went down around a minute before it was due to land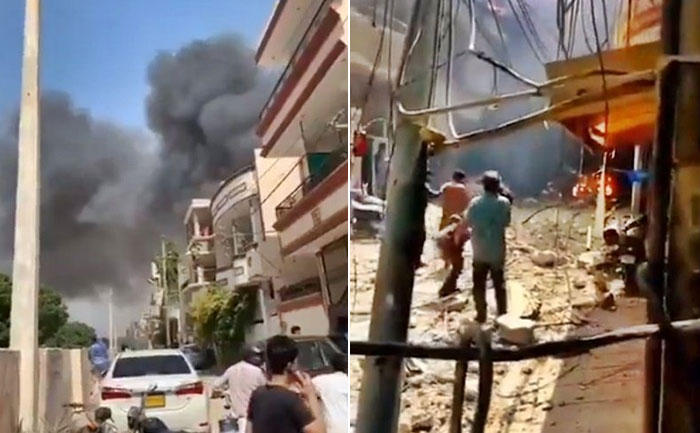 A Pakistani plane carrying 107 passengers and crew crashed into houses on its final approach to Karachi's main airport. The Pakistan International Airlines (PIA) plane went down in a residential area near Model Colony just a minute before it was due to land. Several buildings were damaged when the plane crashed.
The captain had reported an engine failure and declared a mayday. Flight PK8303 was on a domestic flight from the eastern city of Lahore to the southern city of Karachi. 24 News reported that the Civil Aviation Authority (CAA) sources said that the plane disappeared from radar shortly before it was due to land at Karachi's Jinnah International Airport. The source also told News One that communication with the plane was cut off one minute before it was scheduled to touch down.
As per reports from local media, 30 people were rescued from the rubble while the body of a five-year-old child was also recovered. A search and rescue operation to find any survivors was underway.
A spokesman for Pakistan's national airline said: "The plane PK8303 with 99 passengers and eight crew members has crashed."
The Pakistani Army has stated that its quick reaction force and paramilitary troops are on-site for relief and rescue efforts with the civil administration. So far, there have been no confirmed reports about deaths or injuries.
PIA has suspended international flights until May 31. In addition, many domestic flights were also halted. In 2016, all 47 passengers on board an ATR 42–500 were killed when the plane crashed in Havelian on a domestic flight from Chitral to Islamabad.
PM Imran Khan addressed the news via Twitter. He wrote, "Shocked & saddened by the PIA crash. Am in touch with PIA CEO Arshad Malik, who has left for Karachi & with the rescue & relief teams on ground as this is the priority right now. Immediate inquiry will be instituted. Prayers & condolences go to families of the deceased."