Pakistani troops brutally kill another jawan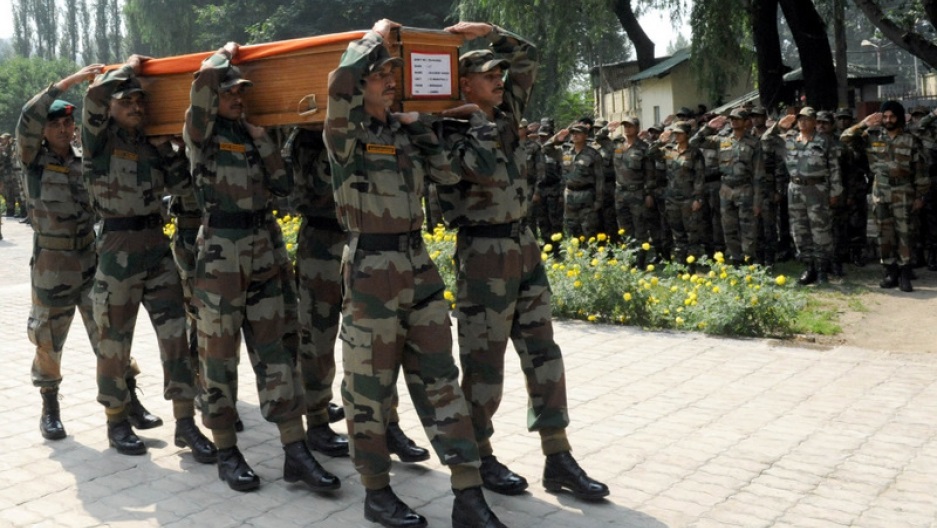 Following Union Home Minister Rajnath Singh's statement that Pakistan still hasn't changed mindset even after Imran Khan took over as the Prime Minister, Pakistani troops brutally killed an injured BSF head constable Narendra Kumar. The Pakistani troops has earlier abducted him from International Border (IB) IN Jammu's Ramgarh sector.
As soon as pictures of the deceased jawan's body were circulated on social media , it send shivers down the spine. Kumar's throat was slit and his eyes were scooped out and threw his body on the Indian side of the IB last evening. The jawan was missing since Tuesday morning following Pakistani troops' firing.
BSF issued a media release on Tuesday evening itself announcing the brutal killing of the jawan. According to the release, the firing took place around 10:40 am on Tuesday.
"BSF troops immediately took position and retaliated but the enemy bullets hit a BSF jawan. The area on Pak side has a protective bundh close to IB. Own side area is undulated, marshy and having thick sarkanda growth. It made the immediate locating of the felled jawan difficult. The situation was brought under control by BSF and ultimately the body of the BSF Jawan was recovered by late evening. Further action on clearing the area of any likely IED, Booby Trap, etc  being taken by BSF troops," The BSF press release issued on Tuesday was quoted by The Statesman.
While news agency PTI said that BSF had alerted the IB as well as the Army to be vigilant at the Line Of Control. "The body of the jawan bears three bullet injuries and his throat has been slit. This is an unprecedented action that has happened with the Indian forces along the IB and the Pakistani troopers are behind this. The BSF and other forces will undertake a counter-action at a suitable time," an official was quoted as saying by the news agency.
Also read: Pakistani forces killed Indian soldier ahead of Asia Cup between two nations