Palghar Bypoll: Bal Thackeray would never have backstabbed us, said Yogi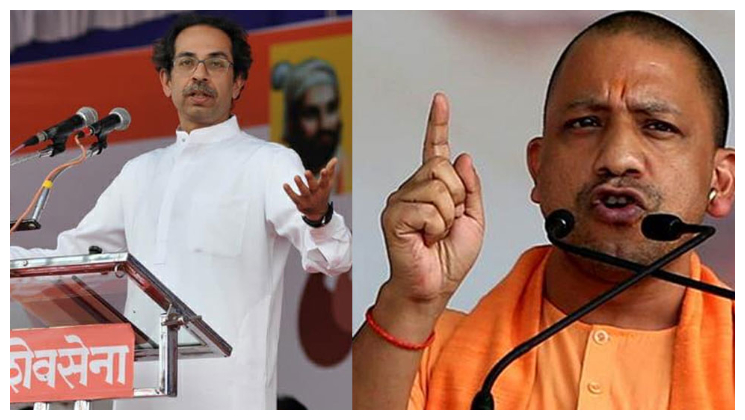 The battle for the Palghar Lok Sabha constituency bypoll entering a crucial phase, Shiv Sena president Uddhav Thackeray and UP Chief Minister Yogi Adityanath addressed rallies in Vasai and Virar on Wednesday evening.
"All shades of political opinion, including the Congress and the Communists too, should come together to fight the crisis which the country faces. If we don't act in time, the grave damage will be done to the country," Uddhav said. The Shiv Sena chief was addressing a meeting in Vasai to canvass support for Shriniwas Wanga, the Sena candidate for the Palghar Lok Sabha by-election, which is scheduled for May 28.
Chintaman Wanga, the BJP MP from Palghar, died in January this year necessitating a by-poll in the tribal-dominated constituency. The Sena has fielded the late BJP MP's son for the crucial by-election.
Around 10 km away in Virar, Adityanath denounced the Sena for snatching away their candidate. Opening his speech in Marathi, he said that even Sena head honcho Bal Thackeray would have been saddened by the developments. "Bal Thackeray would never have backstabbed us," said the UP CM. Giving a ticket to Wanga's kin was an internal matter of the BJP. With Shriniwas contesting on a Sena ticket, BJP fielded former Congress MLA Rajendra Gavit.
A ferocious attack was made on Narendra Modi by Thackeray saying the PM spends more time abroad than in India. "Modi says 'Desh badal raha hai'. Well, he hops from one country to another every second week. It's US in the morning and France in the evening. 'Desh badal raha hai'.
Uddhav accused Adityanath of garlanding Shivaji's bust at the rally venue with his sandals on, thus showing disrespect. Attempts to contact BJP functionaries to verify the charge proved fruitless.