Forget Dalgona Coffee, Pancake Cereal is hottest food trend on TikTok
Pancake cereal is the newest quarantine food trend to hit TikTok and Instagram.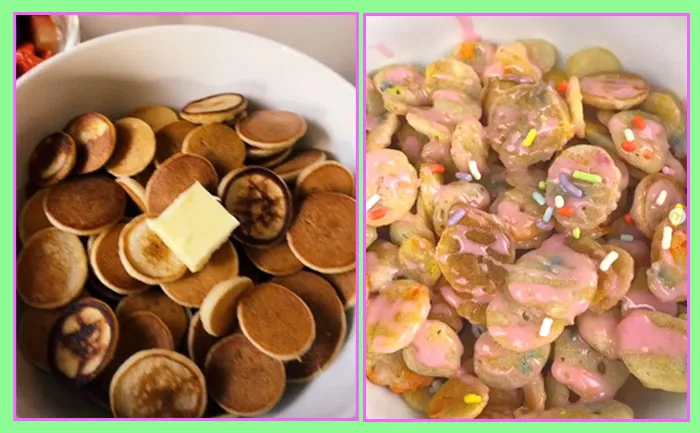 Move over Dalgona Coffee, there's a new food trend in town. Pancake cereal has become the newest quarantine craze to take over social media. With cafes closed indefinitely during the lockdown, creative home cooks are now making pancake cereal for breakfast. This latest food craze has taken over Instagram and TikTok with many  amateur cooks sharing their own creations on them.
Bowls of miniature pancakes slathered in syrup have been popping up all over social media. The #pancakecereal hashtag has received more than 10.6 million views on TikTok alone. It's difficult to determine where the original idea originated, but the trend is growing with each passing day.
Many are using piping bags and squeeze bottles for their tiny pancakes, others have created makeshift tools from whatever they can find around the house.
TikTok star Melanie Locke's pancake cereal video has been liked more than 133,000 times. She has put her batter into a water bottle and made a hole in the cap to create her miniature pancakes.
Watch the video here:
 Here's how you can make pancake cereal:
Making these pancake cereals is exactly like how you'll make a normal pancake:
Ingredients:
1 cup flour'
3/4 cup yogurt
5-6 tbsp milk
2 tbsp sugar
1 egg
1/2 tsp baking powder
2 tsp butter
Maple syrup or any toppings of your choice
Prepare the batter:
. Mix the egg, yogurt, and milk separately.
 Separately, mix the flour, baking powder, and sugar.
 Next, mix them all up to make a smooth and thick batter.
You can also replace the flour and baking powder with a pancake mix depending on your preference.
Baking the batter.
Heat up the pan and begin distributing the butter in small circles.
Begin placing the batter onto the pan.
Transfer them into a bowl once they turn golden brown and pour butter and maple syrup over them.
Much like with dalgona coffee, people are being innovative here too. Some added m&m chocolate into the batter or later topping the pancake cereal with fruit. You can also add Fruit Loops too if you're feeling adventurous! A Little chocolate goes a long way.
Check out the various toppings used by TikTok users:
What are you waiting for? Let your inner creative genius out and bake some cereal pancakes for your family.
Also Read: Dalgona Coffee Recipe: How to make Whipped Coffee at home