Panipat: Kriti Sanon introduces Padmini Kolhapure as Gopika Bai in new poster
Kriti Sanon introduces co-star Padmini Kolhapure as Gopika Bai in Panipat new poster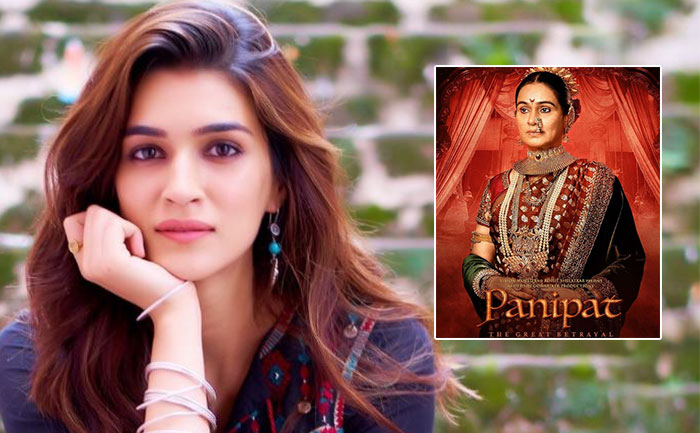 Ashutosh Gowariker's directorial Panipat is receiving a lot of appreciation ever since its trailer came out. The historical epic drama's trailer was released a couple of days ago. Many B-town celebs gave their thumbs up on the film's trailer. Arjun Kapoor, Kriti Sanon, and Sanjay Dutt were as well given love and positive responses for the trailer.
Panipat is a period drama film that is about the ancient time somewhere back in 1761 when Maratha's clashed against invading forces of Afghani King Ahmad Shah Abdali. Ultimately, it all led to bloodshed, loss of lives and damage to property as well.
Yesterday, Arjun Kapoor had introduced his co-actor Mohnish Bahl as Nana Saheb Peshwa in the new poster of the film Panipat where Mohnish is seen as a majestic Maratha Aristocrat in the poster. Today, Kriti Sanon took to Instagram to unveil another new poster where actress Padmini Kolhapure is seen as Gopika Bai.
Kriti Sanon took to Instagram to share the new poster of Panipat. She introduced Padmini Kolhapure as Gopika Bai. Kriti captioned, "Gopika Bai- The keys to the kingdom lie in the heart of the Queen. #PanipatLook #Panipat #Dec6." Check out the picture here.
In the picture, Padmini Kolhapure is dressed in traditional royal attire and definitely looks like a royal queen. She is bedecked with a lot of precious jewels that go along well with the royal dress. Directed by Ashutosh Gowariker, the film Panipat is slated to release in theaters on December 6.
Also Read: Panipat: Arjun Kapoor Introduces Mohnish Bahl As Nana Saheb Peshwa In New Poster