PewDiePie uses Gradient celebrity face app, gets questionable result
YouTube's most subscribed indivisual PewDiePie used Gradient celebrity face app but gets unrecognisable look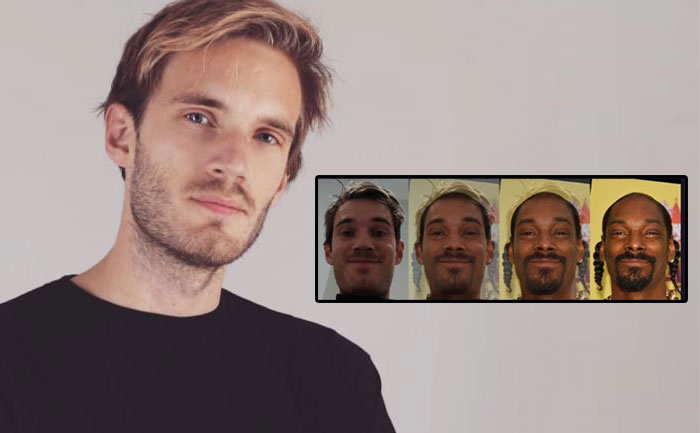 We often get to see new trends on the Internet which attracts millions of people. The latest one is Gradiant — face recognition trends —  which has been making headlines for its pretty shady shit. After Faceapp's AI Tech, now netizens have found yet another face recognition app attractive and interesting.
Not only common people but also celebrities across the world have been sharing photos on social media using Gradiant face recognition features. The latest celebrity who has joined the trend is YouTube star PewDiePie.
Yes, Besides common people, celebrities are also eager to know which star or historical person they look similar and let their fans know about the result. Of course, these facial recognition apps can't always be completely accurate, but it seems to have really faltered when YouTube's most subscribed indivisual PewDiePie, whose real name is Felix Kjellberg, used the Gradient app.
Taking to Twitter, PewDiePie shared the results with his 19 million followers, who did not take time to note the Gradient app might have got something badly wrong. If you look at PewDiePie photos that he shared on Twitter, it shows us th0 progression of him to none other than multiple-time platinum recording artist Snoop Dogg.
Sharing the picture on Twitter, he simply wrote, "Snoop de oh double gee LESS GO!"
Snoop de oh double gee LESS GO! pic.twitter.com/ut3JirtVil

— ƿ૯ωძɿ૯ƿɿ૯ (@pewdiepie) October 18, 2019
What Gradient Photo Editor is all about?
Gradient Photo Editor provides a multiple features but the main feature which attracted millions of people is FUN feature — the most accurate look-alike technology! The feature lets user know which historical person or celebrity looks similar to them and share their awesome result with their friends as a Stories or a Post! You can download Gradient Celebrity Face App from here.
Gradient's celebrity Doppelganger features has become a new trends across the globe. The app is currently ranked the number-one top free app, despite it charging you around $20 a month after the initial three-day trial, the app has become popular seemingly overnight.
Similar to FaceApp, which allowed users to see how they would look when they get older, people are madly sharing their results online, including celebrities themselves.
Also Read: FaceApp Challenge: What Is FaceApp And How Does It Work?