PM Modi 69th birthday: PM Modi seeks mother's blessings
Prime Minister Narendra Modi meets his mother Heeraben on his 69th birthday.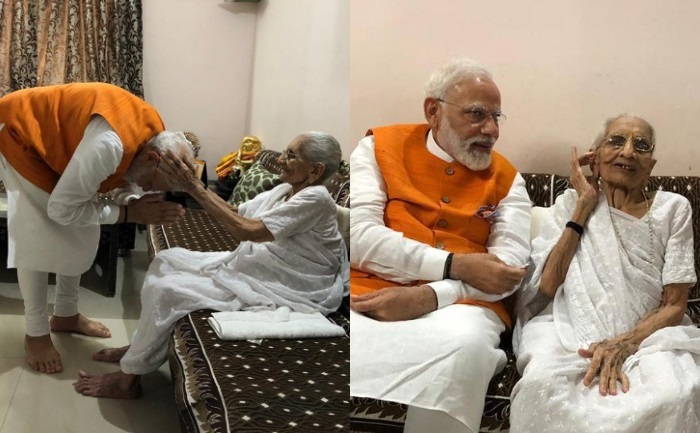 Prime Minister Narendra Modi, turned 69 on Tuesday, he spent the day in his home state Gujarat. The PM visited the Sardar Sarovar Dam in Kevadia. Like each year he also met his mother Heeraben at her residence in Gujarat's Gandhinagar to seek her blessings. The PM also sat down to have a birthday lunch with his mother.
Check out the images shared here:
There are very few people like u. who spent their whole life for the country. U have proven yourself not from your words but from your work.Thank u for your brave and fearless leadership#HappyBdayPMModi #HappyBirthdayNarendraModi#HappyBirthdayPM #NarendraModiBirthday pic.twitter.com/BhNigFQqtu

— Divya Mehta ?? (@mehtadivya_10) September 16, 2019
Whats the point of visiting all those countries, if you aren't going to get fridge magnets#NarendraModi pic.twitter.com/uJ5kz80Iyq

— Kaaka_angadi (@KaakaAngadi) September 18, 2019
Proud Maa Heeraben with his son PM Modi .
These pictures say it all.
??#PMModiBirthday pic.twitter.com/kXz7vk0eHF

— Lali (@LaliGanguli) September 17, 2019
The images showed the two enjoying what looked like a Gujarati thali.
Earlier in the day, the PM visited Sardar Sarovar Dam in Kevadia. Before that, the Prime Minister shared a video of the Statue of Unity in Kevadia of Narmada district. Modi had inaugurated the statue, billed as the tallest in the world, on the birth anniversary of India' first home minister Sardar Vallabhbhai Patel's on October 31 last year.
The Prime Minister also spent some time at the Khalvani Eco-Tourism site and a cactus garden in Kevadiya. He was accompanied by Gujarat Governor Acharya Devvrat and Chief Minister Vijay Rupani.
Also Read: Narendra Modi Birthday Special: 11 unknown facts of the charismatic leader