Twitterati slams Narendra Modi for his claims of using digital camera and email in 1980s
Narendra Modi has been slammed by Twitter users including Anurag Kashyap, Siddharth and common users.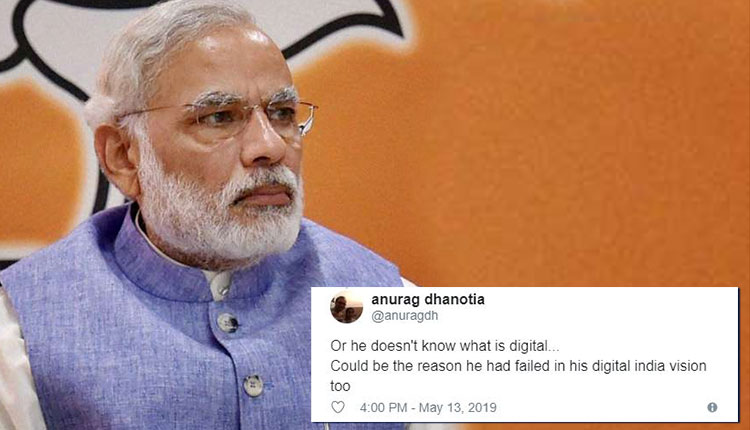 In a recent interview to a Hindi news channel, PM Narendra Modi said that he used a digital camera as well as email during 1987-88. In the interview, Modi expressed his fondness towards gadgets and his fascination towards technology. He said, "Perhaps… I don't know if there were others… I first used a digital camera around 1987-88. Back then, very few people had e-mail."
Well, post this interview he was criticised on Twitter. From common men, opposition party members to a few Bollywood personalities, many slammed Modi questioning the legitimacy of what he claimed in the interview.
Have a look at some of the tweets below.
Anurag Kashyap called him a 'chronic liar'. Here's his tweet.
In 87 he had the digital camera and he was e-mailing people in 87-88… is he a chronic liar? Or just delusional https://t.co/nAmG5GZBSG

— Anurag Kashyap (@anuragkashyap72) May 13, 2019
Actor Siddharth too tweeted.
That sad uncle at a wedding who keeps lying and telling obviously fake stories to the kids just to get attention…is our current #PrimeMinister. If he gets his second term, who knows what he will cook up next! https://t.co/usRrt5uGPF

— Siddharth (@Actor_Siddharth) May 13, 2019
Any guesses as to what @narendramodi email id was in 1988?
dud@lol.com is my guess https://t.co/iVnSHtGsIn

— Divya Spandana/Ramya (@divyaspandana) May 12, 2019
Responding to the same video interview, common men too trolled Modi.
The script must have had 97-98. But Modi ji wanted to improvise on the set it seems.

— Gowtham NR (@NRGowtham) May 13, 2019
No, he has an ambition to be remembered like Nehru, Patel, Ambedkar historical stalwarts. But he got stuck to this level due to education and RSS. Sometimes when he tries, something like this happens…..

— Chowkidar Chor Hai – India_Dreamer (@mohammadanwar) May 13, 2019
Or he doesn't know what is digital…
Could be the reason he had failed in his digital india vision too

— anurag dhanotia (@anuragdh) May 13, 2019
What do you have to say about this? Do let us know.
Also Read: TIME Puts PM Narendra Modi On Cover, With Controversial Headline