PM Modi Mann Ki Baat: Large part of economy active, time to be more careful
Prime Minister Narendra Modi in Mann Ki Baat says, Road ahead is a long one, we need to be more careful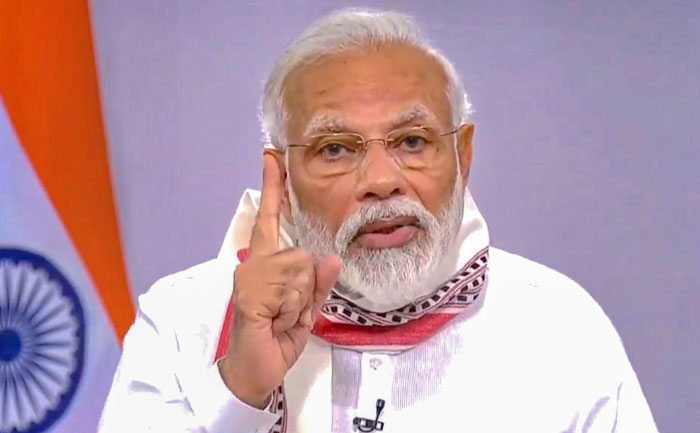 Prime Minister Narendra Modi is addressing the nation through his monthly radio program 'Mann Ki Baat' at 11 am today. It is on the last day of the fourth phase of the nationwide lockdown imposed to curb the spread of coronavirus COVID-19 in India. Prime Minister Narendra Modi is all praise for the citizens and the way they have handled the Lockdown phase. He also gave a number of examples of how people came forward to help each other during these trying times.
Here are some important points touched by the PM in his interaction:
1. Seva Bhakti Attitude of Public
The PM praised the Seva Bhakti Attitude of Indians. Praising the citizens of India he added that we have been more careful now. Though India's population is more than other countries, despite that we have tackled the COVID-19 Pandemic well all due to their Seva Bhakti attitude.
2. Women SHGs
Prime Minister Narendra Modi lays stress on the remarkable work of Women Self Help Groups.
3. Stress on Innovation:
He was all praise that multitude of countrymen from villages and cities, from small scale traders to startups, our laboratories are devising even new ways of fighting against coronavirus; with novel innovations.
4. Yoga and Ayurveda:
He has asked the countrymen to adopt Yoga and Ayurveda during the coronavirus crisis, as they strengthen the
respiratory system.
5. Ayushman Bharat Yojana:
Prime Minister Narendra Modi says – "For a long time, millions of poor people are in a debacle, whether to get treated or not. In view of this, Ayushman Bharat Yojana was started. 1 crore people have benefitted from the scheme and Rs 24,000 crore been spent on the scheme."
6. Multiple Crisis:
The PM added, India is facing multiple crises such as COVID-19 pandemic, Cyclone Amphan, Locusts attack, and many others. But it can be overcome by working together.
7. World Environment Day:
He laid stress on the environment. On 5 June, the world will celebrate World Environment Day. The PM says we have to take care of the environment and also conserve water through water harvesting and plant more trees.
In all, he has asked Indians to work together and follow the guidelines to come out safe and sound from this pandemic.
The central government on Saturday extended the nationwide lockdown for containment zones with a high number of coronavirus cases till June 30. It has also announced the graded lifting of restrictions for the rest of the country.
Also Read: Lockdown 5.0 guidelines: Here's what's allowed and what's not