Jammu and Kashmir: Policeman, BJP worker shot dead by terrorists on Eid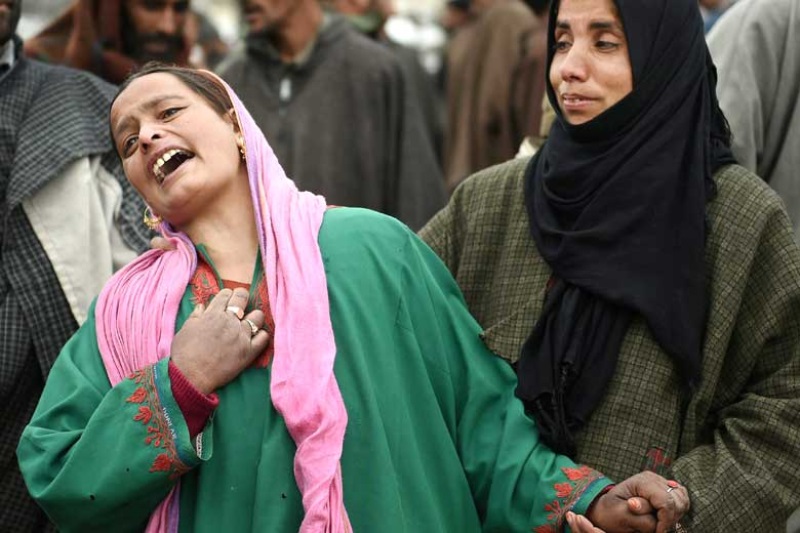 After a slew of lives were lost in the past month, two more deaths have left the state of Jammu and Kashmir grief-stricken. Another 34-year-old policeman was killed by terrorists when he was returning home after offering Eid prayers in Jammu and Kashmir. Fayaz Ahmed Shah, a constable in Jammu and Kashmir Police, was shot outside an Eidgah in Awgam village. He lost his life on the spot.
A resident of Zazri Pora village in Kulgam district, Shah was training in Talwara and had come home to celebrate Eid with his family. His mother, wife and two daughters remain inconsolable since he was pronounced dead.
Kulgam: Wreath laying ceremony of Constable Fayaz Ahmed Shah who was shot dead by terrorists outside an eidgah in Zazripora today. Police has registered a case and investigation has started. #JammuAndKashmir pic.twitter.com/o8TYMELNQB

— ANI (@ANI) August 22, 2018
A case has been registered by the police and a search for the terrorists has begun.
Also Read: Another day, another abduction in Jammu and Kashmir
The other incident occured in Pulwama, about 50 km from Kulgam, when terrorists killed Shabir Ahmad Bhat, a BJP worker. Bhat was kidnapped on August 21 while his bullet-riddled body was found early on August 22 in the fields in Rakh-e-Litter area of Kupwara, police said.
BJP President Amit Shah took to Twitter to offer his condolences to Bhat's family and said that extremists cannot stop the youth of Kashmir from choosing a better future for themselves.
Anguished to learn about the killing of BJP karyakarta, Shabir Ahmad Bhat by terrorists in Pulwama (J&K). This act of cowardice is highly condemnable. Extremists cannot stop the youth of Kashmir from choosing a better future for themselves. This cycle of violence won't last long. pic.twitter.com/hAOb4ptPeo

— Amit Shah (@AmitShah) August 22, 2018
The sacrifice of our @BJP4JnK karyakartas will not go in vain. Entire BJP stands firmly with Shabir Ahmad Bhat's family in this hour of grief. My deepest condolences. May god give his family the strength to bear this tragic loss.

— Amit Shah (@AmitShah) August 22, 2018
Bhat is the first political activist killed by terrorists after the government announced municipal and panchayat elections in the disputed state last week.
Srinagar: Members of #JammuAndKashmir BJP pay tribute to BJP worker Shabir Ahmad Bhat, who was shot dead by terrorists this morning at his home in Pulwama's Rakh-e-litter. pic.twitter.com/7LjxVGpdjn

— ANI (@ANI) August 22, 2018
Also Read: Jammu: Independence Day 'terror attack' foiled, cops arrest youth with 8 grenades