Prada Sells Yellow Sweater With Holes. Turtleneck or Swiss cheese? Wonder Netizens
Prada sells yellow sweater with holes for Rs 90k. Looks like Swiss cheese, says Twitter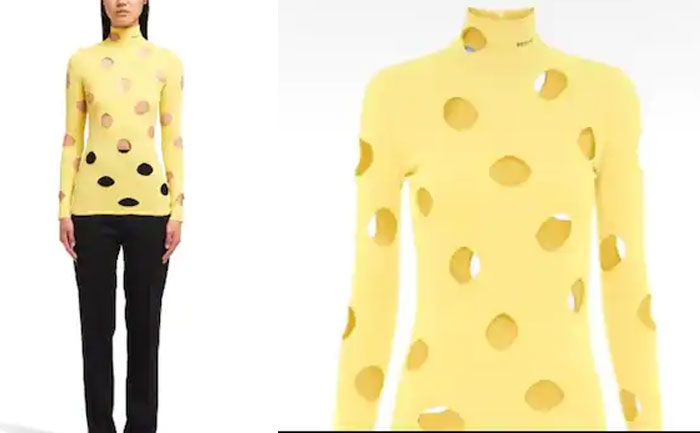 Luxury fashion house Prada has caught the attention of Netizens. The reason being Rs 90k Yellow sweater with holes. The quirky clothing is a part of Prada's Spring Summer/2021 collection. You also have an option of buying it in Sunny Yellow, Black or Milky White. But ever since the pictures went viral on social media it has left netizens baffled. They are wondering if it is a turtleneck or a Swiss Cheese?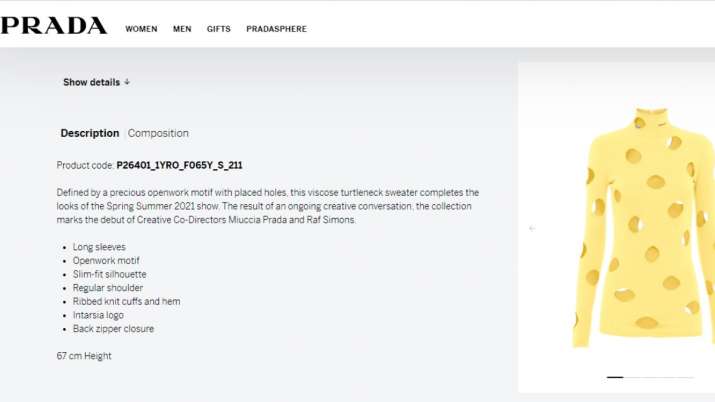 Prada describes it as, "Defined by a precious openwork motif with placed holes, this viscose turtleneck sweater completes the looks of the Spring Summer 2021 show. The result of an ongoing creative conversation, the collection marks the debut of Creative Co-Directors Miuccia Prada and Raf Simons."
This is how netizens reacted:
Prada charging £905 to look like a bit of Swiss cheese 🧀 pic.twitter.com/8vFbfaHr05

— Hephzi Ferris (@H3phz1_m4yy) January 26, 2021
"Openwork" Prada sweater for $1,350.

The devil wears Swiss. pic.twitter.com/oq2MxOP5kh

— Judy (@MyNameisJudy) January 27, 2021
Hey @MackayIM. This will go well with your cheese diagram.

The devil wears Gouda! Prada jumper that costs £905 looks like holey cheese https://t.co/bUNFSGVp0C

— Dr Eric Levi (@DrEricLevi) January 26, 2021
This is not the first time that a clothing item has been mocked for its design. Last year in December, high street brand Zara's "Knit Arm Warmers" had attracted lighthearted trolling on social media. Gucci too sold a pair of dirty sneakers for almost Rs 60, 000 by describing it as 'vintage.' Givenchy's latest three-toed socks and shoes reminded netizens of Scooby-Doo.
Also Read: Zara's Bizarre 'Arm Warmers' Start Meme Fest Online