Pranab Mukherjee's Daughter response -Morphed photo circulating the internet.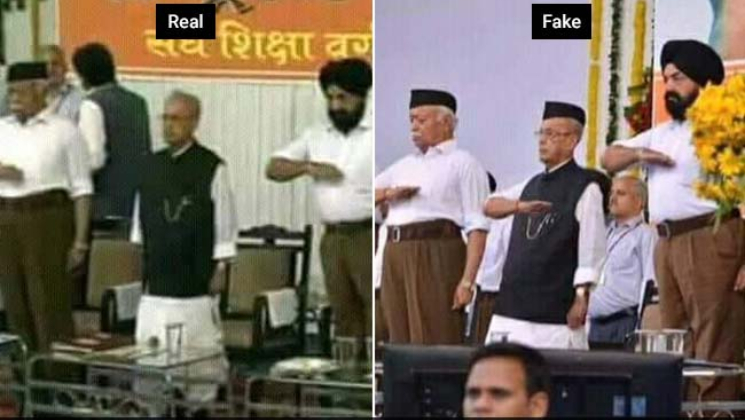 Hours after his speech at the Rashtriya Swayamsevak Sangh (RSS) headquarters in Nagpur, a morphed picture of former President Pranab Mukherjee surfaced on social media. In the photo, Mr Mukherjee is seen raising his hand up to his chest in the RSS way of salutation along with leaders of the organisation. In reality, Mr Mukehrjee had stood in attention. The image prompted his daughter and Congress leader Sharmistha Mukherjee to say that as she had feared and cautioned her father against, the "dirty tricks department" of the BJP-RSS was at work in full swing.
"See, this is exactly what I was fearing and warned my father about. Not even few hours have passed, but BJP/RSS dirty tricks dept is at work in full swing!" she said, retweeting a tweet showing the "morphed" picture of Pranab Mukherjee performing the RSS salute along with its leaders in Nagpur.
Ms Mukherjee had on Thursday said her father was giving the BJP and the Rashtriya Swayamsevak Sangh a handle to plant false stories.
 "Hope @CitiznMukherjee now realises from todays' incident, how BJP dirty tricks dept operates. Even RSS wouldn't believe that u r going 2 endorse its views in ur speech. But the speech will be forgotten, visuals will remain & those will be circulated with fake statements," the former President's daughter tweeted.
.@CitiznMukherjee By going 2 Nagpur, u r giving BJP/RSS full handle 2 plant false stories, spread falls rumours as 2day & making it somewhat believable. And this is just d beginning! 2/2

— Sharmistha Mukherjee (@Sharmistha_GK) June 6, 2018