Prediction: Future Of Real Estate In Rajkot for 2021
Is Rajkot the next destination for home makers to invest? Deets Here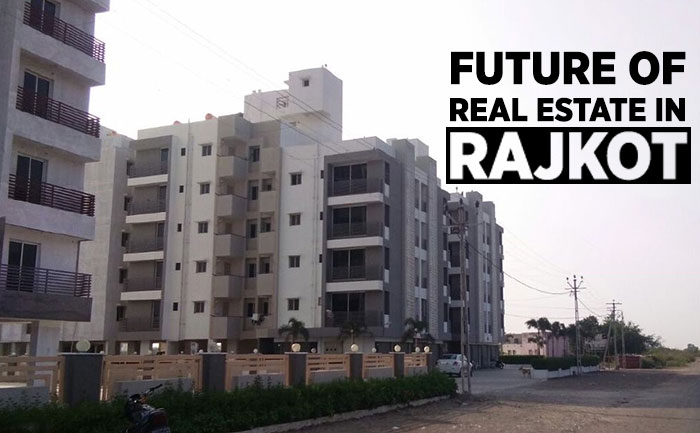 Business owners worldwide know that, the key to a sustainable and profitable business plan is, to be aware of what lies ahead. Having certainty of potential outcomes for every plan of action will help reap rewards for your businesses. It can be any business including Real Estate.
Owning a home is a keystone of wealth… both financial affluence and emotional security, Quotes Hirav Shah, Renowned Real Estate Strategist and Investment Adviser.
Government's Assistance :
Two major incentives given to the real estate sector are tax benefits for affordable housing. Also private investment formats such as REITs and InvITs (Real Estate Investment Trusts and Infrastructure Investment Trusts).
The FM has proposed to extend by another year — till March 31, 2022 — the tax exemption benefit, as well as the deduction of interest on loans for affordable housing. Another praiseworthy move that will provide succour to migrant workers is a tax exemption for notified Affordable Rental Housing Projects, making rental homes more accessible for migrants.
The FM has also provided a stimulus to REITs and InvITs with the exemptions on TDS (tax deducted at source). The FinMin further proposed to allow the entry of foreign portfolio investors into debt financing of REITs and InvITs. This will make REITs and InvITs a more lucrative investment for the common man, and help bring more private participation and flow of funds into the real estate and infrastructure sector.
The FM also announced a few indirect support measures, such as an injection of funds in infrastructure development, which will boost overall capital appreciation of nearby property.
Real Estate & Property Astrology :
Whenever we deal with property, home, land, and even real estate, we always look at the condition and position of the 4th house and its lord. It is at home where we find peace and happiness, therefore, the 4th house is also associated with mother, and finally, the 4th house also signifies the comforts of life.
.4th house lord in the 4th house- If the 4th house lord is placed in the 4th house itself, with the lagna lord, the person will be able to enjoy all the material comforts of home and property. One becomes extremely fortunate to have a nice home. Such a person can also gain success in the real estate business.
Mars in the 4th house- Mars is the main planet for property and owning lands or acquiring lands. Mars in the 4th house alone brings in a great yoga for owning multiple properties and doing real estate business.
Mars in the 4th house in its own sign- Mars in the 4th house in its own sign or exaltation sign with Mercury will make the native work in the field of real estate and doing business of property.
Jupiter's aspect on the 4th house-Anytime, when Jupiter looks or aspects the 4th house, it is considered very auspicious. Such a person enjoys the wealth of home. Such a person can also do business related to property and wealth.
Strong position of Venus and Aspect on the 4th house- Venus is the main planet for luxury, passion, and enjoyment. All the materialistic comforts of life given to a person is represented by the planet Venus. Therefore, it is important to have a strong position of Venus in the birth chart. For property or real estate business, Venus also plays an important role as Venus represents luxury and expensive items.
Saturn in the 10th house and Mars in the 4th house- Saturn is the main karaka for building and construction as the planet Saturn represents construction. Saturn becomes strong in the 10th house and it's benefic aspect on the 4th house opens doors for the native to get into real estate business. Especially, if Mars is also sitting in the 4th house, this is a perfect combination for real estate business.
Exalted or Own sign Mars in the 10th house- Mars gets natural strength in the 10th house because it is one of the exaltation houses for Mars. Here if Mars is in any sign, not debilitated, then it aspects the 4th house which brings in a strong yoga for doing real estate business. Here if Mars is exalted or in its own sign, it becomes even more prominent for the person to get into real estate business as Mars in the 10th house in its own sign creates "Ruchak Yoga" which is extremely auspicious for the person.
Moon and Venus in the 4th house- Moon and Venus in the 4th house is a very strong position for the real estate business. Here the Moon is in its own house and gives the native a lot of mental strength, peace, and stability. While Venus in the 4th house gives the native, the comforts of home and property. Here the natives can indulge in real estate and get great success.
Mars in the 9th house and Saturn in the 10th or 4th house- Mars as we know is the main planet for property and home while Saturn represents Land and the actual process of building a home. When these two planets make a connection with the 4th house from the 9th or 10th house, it creates a very strong yoga for doing real estate business. Saturn sitting in the 4th house will give all the home and property comforts to the native while Mars sitting in the 9th house will make the person hardworking, full of energy and will bring in rise in the career of the person by being in the house of bhagya.
So, if you are a property investor/ developer, searching for investment opportunities in India that will provide you with a decent return. Also a consistent and steady income in 2021 and the years ahead?
If yes, then, the second cleanest city in India and the 22nd fastest growing city in the world, Rajkot in Gujarat is the right destination for you, Opines Hirav Shah, Real Estate Strategist and Property Astrologer.
Favourable Time Period to invest in Rajkot Real Estate in 2021 :
April 25 to July 10, 2021.
Future Of Rajkot Real Estate and Real Estate Trends:
1. Real Estate Boom Due To Rajkot's Economic, industrial profile and Connectivity:
Rajkot is an industrial base for sectors such as jewellery, textiles, silk embroidery and watches parts. The automobile industry has been witnessing a major boom in recent times.
A number of private conglomerates are present in Rajkot, including Macpower CNC Machines Pvt. Ltd., Jyoti CNC Automation Pvt. Ltd. and Atul Auto Ltd.
There are about 500 foundry units in Rajkot, owing to the casting requirements of the local diesel engine industry.
Software services have also been growing rapidly in this region, with many new multinational software companies.
Call centers are also setting up their operation and development centers.
Tourism is another major industry that contributes to the city's economy.
2.Connectivity-
By air, Rajkot connects to Mumbai and intermittently to Ahmedabad, served by Indian Airlines, Jet Airways and other carriers
Rajkot has an extensive network of roads and is equipped with state and private transport buses.
Through the national and state highways, Rajkot is connected across India.
Rajkot Railway Station, also known as Rajkot Junction, is the main railway station in the city of Rajkot.
The city has frequent trains to Mumbai, Ahmedabad, Delhi, Coimbatore, Kochi, Bhopal and other cities.
2. Infra Development :
Due to the presence of a large industrial base, Rajkot has excellent transport infrastructure.
The Rajkot Urban Development Authority (RUDA) has been formulated to ensure that there is a systematic development of the areas under its jurisdiction, with a constant focus on infrastructure facilities.
Healthcare and education services in Rajkot are also notable. The city has a lot of renowned schools, colleges and universities. The same holds good for the healthcare facilities in this region.
3. Increase In Demand Of Real Estate Market:
a. IT Destination – As the next potential destination for service sectors like IT and ITes, the real estate market has been witnessing an increase in demand.
b.Investments in Housing -Owing to the large investments being made by top realty companies, a number of housing projects are coming up, making way for affordable residential property in Rajkot.
c. Investments in Commercial Property -In the commercial property front, the upcoming multistoried hotels, shopping malls and business houses have helped to maintain the demand.
Best Places To Invest In Real Estate In Rajkot:
1.Prices in prime localities like Kalawad Road and University Road have increased by almost 30% in one year.
2.Sadhu Vasvani Road & Shastri Nagar are also the places that are considered best to invest in real estate in Rajkot.
Hirav Shah's detailed property astrology analysis will give you the insights and the clarity you need to ensure the certainty of project sales.
Also Read: Hirav Shah Has Interesting Predictions For Birthday Girl Alia Bhatt