Premier League: Xherdan Shaqiri helps Liverpool gain top spot after 3-1 win over Manchester United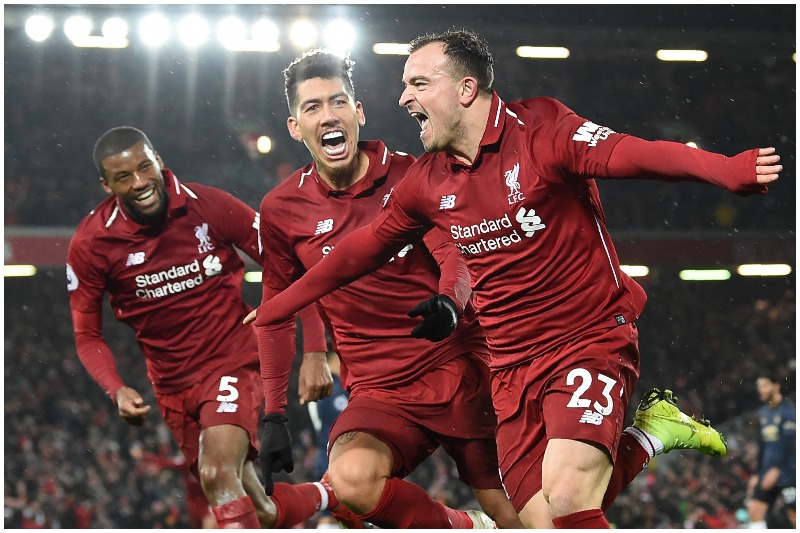 Liverpool surged back to the top of the Premier League table after a dominating 3-1 win over arch-rivals Manchester United on Sunday.
Manchester City had beaten Everton on Sunday–and Liverpool needed to better that result by winning this high profile match and Jurgen Klopp's men did just that.
Also read: Premier League: Tottenham ride on Christian Eriksen late goal to overcome Burnley
The Reds were off to a brilliant start when Fabinho's delivery invited a volley from Sadio Mane in the 24th minute to hand the hosts the lead. But a mistake from Alisson paved the way for Manchester United to make a comeback as Jesse Lingard pounced on an opportunity when a cross by Romelu Lukaku was eventually sent into the back of the net.
With the scores levelled at 1-1, United dreamt of escaping with a draw but Klopp's introduction of Xherdan Shaqiri changed the equation completely.
The Swissman scored in the 73rd and 80th minute with both goals having an element of luck. One took a deflection from close range and the other one also went in similar fashion.
But there's no credit to take away from Liverpool who were absolutely dominant on the night as they didn't allow the Mancunians to make a comeback at all.
Jose Mourinho meanwhile continued to leave star midfielder Paul Pogba on the bench and opted to bring in Marouane Fellaini instead. Also, he decided to bring in Anthony Martial when things had already passed away from their grasp.
The match also offered a proper view of the exact opposite directions both these teams are headed towards.