US President Donald Trump incorrectly wishes the state of Kansas on Super Bowl 2020 win
Here's what US President Donald Trump wrote in his deleted tweet.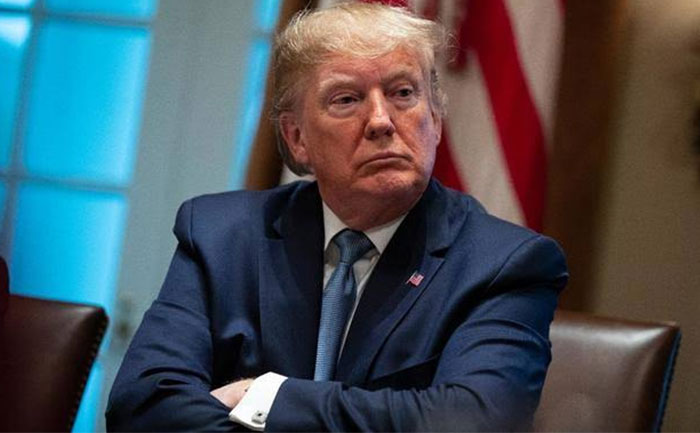 President of the United States Donald Trump has once again made a mistake while congratulating the Kansas City Chiefs on a Super Bowl Victory on February 2, 2020. Trump did everything write except the state he mentioned in his since-deleted tweet. Yes, in his deleted tweet, Donald Trump congratulated the state of Kansas but the problem is The Kansas City team belongs to Missouri.
Minutes after his tweet, Trump apparently realized what blunder he has done or someone around him informed him about the same, as he deleted the tweet.
Before Donald Trump's tweet was deleted there are thousands of people who had already taken his tweet's screenshot and reacted with a mixture of laughter and derision. Here's the screenshot of Donald Trump's deleted tweet.
Here's how netizens reacted to Donald Trump's deleted tweet:
Replying to Donald Trump's tweet, a user wrote, "This is the President Of The United States of America and he thinks the Chiefs are based out of Kansas. Chiefs are based out of Missouri."
This is the President Of The United States of America and he thinks the Chiefs are based out of Kansas. Chiefs are based out of Missouri. ?????? pic.twitter.com/ZJZ2XlqStq

— shannon sharpe (@ShannonSharpe) February 3, 2020
A verified user named  J. A Adande took to Twitter and wrote, "I used to think the Kansas City Chiefs played in Kansas. But I was like 12 years old and not the president of the United States."
I used to think the Kansas City Chiefs played in Kansas. But I was like 12 years old and not the president of the United States.

— J.A. Adande (@jadande) February 3, 2020
A feminist named Padma Lakshmi wrote, "So Lame."
So lame https://t.co/T6eJHGUjfj

— Padma Lakshmi (@PadmaLakshmi) February 3, 2020
Along with a screenshot of Trump's tweet, Host of the 'Jemele Hill is Unbothered' wrote, "I had a bad night but at least I'm not this guy."
I had a bad night but at least I'm not this guy pic.twitter.com/JktuBA830T

— Jemele Hill (@jemelehill) February 3, 2020
Tomorrow: Trump waves around a map in Oval Office showing that Kansas City is, in fact, in Kansas. pic.twitter.com/e5jb6R7RHf

— Greg Krieg (@GregJKrieg) February 3, 2020
Now find Ukraine on a map! https://t.co/mrYMwNnNYc

— David Corn (@DavidCornDC) February 3, 2020