Press Conference Highlights: Prakash Javadekar and Ravi Shankar Prasad unleash new social media and OTT guidelines
Check out key highlights from Prakash Javadekar and Ravi Shankar Prasad's live press conference on new social media guidelines and OTT platforms. The briefing unleashes the new guidelines curated by the government.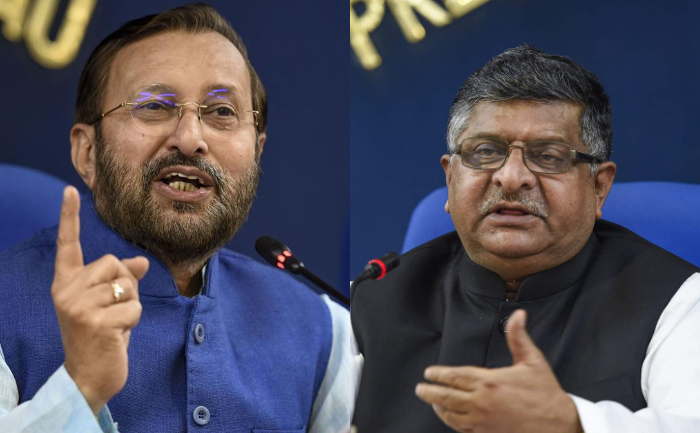 Earlier today it was announced that the Union Ministers of India, Prakash Javadekar and Ravi Shankar Prasad will hold a press conference at the National Media Centre in New Delhi at 2 pm today i.e Feb 25. The live press conference briefing started off with the discussion on Cabinet decisions that were taken by the Narendra Modi government today at National Media Centre. Ravi Shankar Prasad started off his address by talking about social media ethics, OTT platforms, and abuse cases that happen on social media. Prakash Javadekar talked about fake news and the new mechanism for digital media.
Highlights from Prakash Javadekar and Ravi Shankar Prasad live conference:
Ravi Shankar Prasad said that they have received complaints from all across the nation and these complaints mainly asked the ministry to eliminate content that promotes women abuse, harassment, child abuse, terror, hatred content, and pornography on social media. He revealed that the Supreme Court has also asked the ministry to eliminate these such practices on social media and on digital platforms.
Ravi Shankar Prasad further mentioned that the Supreme court has directed the ministry to curate a new mechanism so they can track down the fake news originators, pornography content posters, hate spreaders.  Following this, the Ministry has done a consultation to study people's behavior in the digital space. He also mentioned that all the owners of portals on social media and digital platforms should follow the new rules and they are expected to remove content harming the dignity of women, impersonation, any kind of abuse. The handles are expected to remove such content within 24 hrs or legal action would be taken by a regulatory body.
Prakash Javadekar started off his speech by mentioning digital media outlets that are not following the code of conduct. He said that there should be the same level playing fields for all kinds of media outlets, whether it's a channel or a digital media portal. All the media platforms should have the same justice system and the government has set up new rules for them.
Prakash Javadekar further revealed about government's three steer mechanism that aims at eliminating the content that falls under the restricted category.
There should be a grievance redressal system in OTT platforms and digital portals. OTT platforms will have to have a self-regulating body, headed by retired Supreme Court or High Court judge or very eminent person in this category: Prakash
Javadekar also mentioned that OTT platforms should categorize their content as per age groups and add the parental control options on their respective apps. He mentioned that since India has a censor board for films, OTT platforms should be a part of this mechanism.
Here you can watch the live conference video:
For all the latest updates, stay hooked on to The Live Mirror.
Also Read:  Union Minister Smriti Irani Confirms About Testing Positive For The Coronavirus