Priyanka Chopra garners 40 million fans on Instagram
Priyanka Chopra's Instagram family grows over 40 million she thanks fans with a cute video.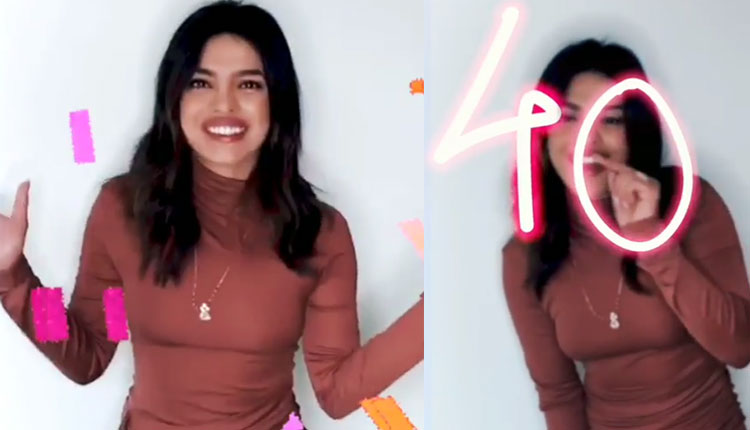 Global icon Priyanka Chopra is quite popular all over the globe ever since she marked her debut on American television. Her popularity is growing with each passing day. The Diva has now crossed 40 million fans following on her Instagram handle. The 'Quantico' girl is much excited about it and soon took to social media to thank her extended family and blow kisses to them.
Priyanka Chopra took to Instagram and shared a heartfelt message for her fans in a video on her Instagram stories. She also thanked her fans on Instagram:
Check out the videos here:
Thanking her fans Priyanka said, "Oh My God! 40 million. It's amazing. I still remember the day when I joined Instagram. One by one, all of you have been part of such an amazing journey for me. I am really touched and extremely moved. I love you all and thank you for all your support all my life. I hope it always stays."
Priyanka also shared a short video:
The actress uses the social media platform to keep her fans abreast of her personal moments with her family and friends, as well as to share glimpses from and behind the scenes of red carpet events. Fans excitedly look forward to her posts that are always a delight to watch.
Priyanka Chopra is ruling high with a 40 million, while her Bajirao Mastani co-star Deepika Padukone is her closest competitor with 35 million followers. 'Raazi' actor Alia Bhatt stands third at 33 million.
Priyanka's husband Nick Jonas has 23.9 million followers and sister-in-law and Games of Thrones star Sophie Turner has 12.4 million followers.
Also Read: Priyanka Chopra shares a selfie with 'Pretty Girl' Joe Jonas