Priyanka Chopra has this to say on Sophie Turner's nostalgic post on GoT
Sophie Turner who played Sansa Stark in Game of Thrones turns nostalgic while sharing a post on GoT.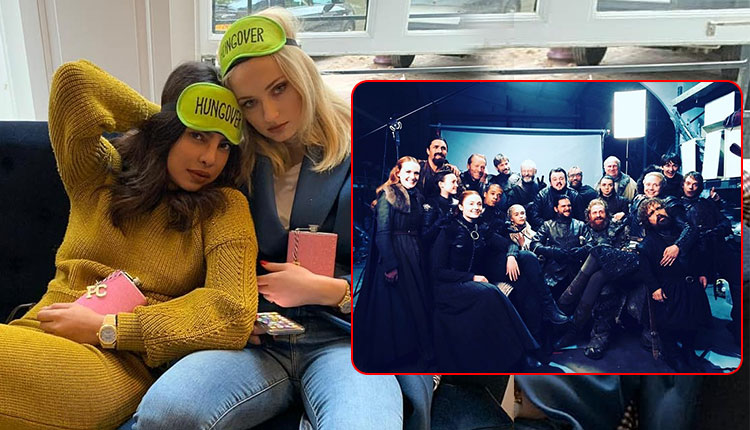 The last season of Game Of Thrones came to an end. While some are happy with the ending, some are mourning the death of Dragon queen Daenerys Targaryen. Sophie Turner who starred in GoT as Sansa Stark shared a lengthy and emotional post with a couple of pictures with the team. Sharing the pics, she thanked her character, Sansa. Here are the excerpts from the post. "Thank you for teaching me resilience, bravery and what true strength really is. Thank you teaching me to be kind and patient and to lead with love. I grew up with you. I fell in love with you at 13 and now 10 years on.. at 23 I leave you behind, but I will never leave behind what you've taught me," she wrote. Priyanka Chopra, her sister-in-law commented on the post.
Before having a look at Priyanka's comment, check Sophie's post here.
Priyanka could feel Sophie's feeling and she commented with an 'Awww'.

Sophie became the Queen in the North, and the last episode of Game of Thrones has left everyone with mixed feelings. Post the death of Mother of Dragons, the Iron Throne was burnt by Dragon fire. Sophie played an important character in the entire season and was raved for her performances. Fans are really gonna miss her but you can see her in the upcoming movie X-Men: Dark Pheonix. The movie will hit the screens on June 5 this year.
For more updates and news, stay tuned to our space.
Also Read: Priyanka Chopra Definitely Didn't Miss Sophie Turner's Wedding; Here's The Proof