Sonam Kapoor Slammed Vivek Oberoi For Sharing 'Exit Poll' Meme On Aishwarya Rai
Vivek Oberoi take a dig at Salman Khan and Aishwarya Rai's affair to talk Exit Poll result. Sonam Kapoor slammed him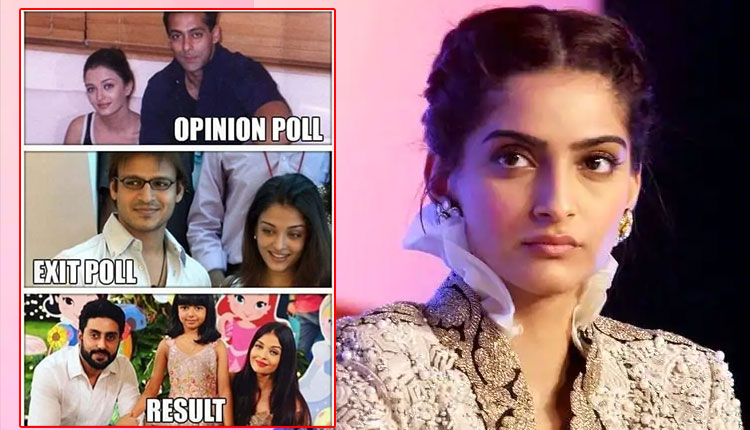 The nation is waiting with bated breath to see who will be the next Prime Minister of the country as the exit polls of Lok Sabha Elections 2019 are currently on. During this tense phase actor Vivek Oberoi has shared a meme that has not gone down well with the netizens. Vivek took to Twitter and shared a collage that features him, Aishwarya Rai Bachchan, Abhishek Bachchan, Salman Khan and Aishwarya's seven-year-old daughter Aaradhya.
Captioning the collage image, Vivek wrote, "Haha! creative! No politics here….just life."
Haha! ? creative! No politics here….just life ??

Credits : @pavansingh1985 pic.twitter.com/1rPbbXZU8T

— Vivek Anand Oberoi (@vivekoberoi) May 20, 2019
Vivek has himself reposted a meme which states Salman and Aishwarya's relationship as the 'opinion poll', Vivek and Aishwarya's affair as the 'exit poll' and Abhishek-Aishwarya and Aaradhya's happy family as the 'final result'.
He was soon slammed by Sonam Kapoor, who called Vivek's post "disgusting" and "classless."
Disgusting and classless. https://t.co/GUB7K6dAY8

— Sonam K Ahuja (@sonamakapoor) May 20, 2019
Not only Sonam but many others took the actor to the task. Check out the tweets here:
Extremely absurd of you to tweet this!! Disappointing!

— Gutta Jwala (@Guttajwala) May 20, 2019
Some People never grow up in life …This guy never knew how to respect a woman, and don't think he will ever learn to… Once a loser , always a loser @vivekoberoi #VivekOberoi pic.twitter.com/n6QVQsZgDU

— Kamlesh Sutar (@kamleshsutar) May 20, 2019
loser, spare ur stupid joke on someone's personal life

— Nehr_who (@Nehr_who) May 20, 2019
This is in such poor taste.. ones personal life is not to be discussed here.. remember there are 4 individuals who are father/ mother/ brother /sister .. and everyone has moved on .. shame

— Sushant Kumar (@sushantksay) May 20, 2019
Kyun Apne upar koi sankat ghasit rahaa hai .. I am wishing that Aishwarya will ignore it else you will be struggling from post to Piller

— BITTERMINT (@mintyghost) May 20, 2019
Salman and Aishwarya's affair in 2000 made headlines. However, they called it quits by 2002. Post which, Aishwarya dated Vivek Oberoi, but after his famous sparring with Salman Khan, the lady cut all ties with Vivek. She married Abhishek Bachchan in 2007, and the two have a daughter Aaradhya.
On the work front, Vivek's political biopic PM Narendra Modi will release on this Friday, May 24.
Also Read: PM Narendra Modi: Union Minister Nitin Gadkari launches new poster of Vivek Oberoi starrer