Queen Elizabeth Cuts Cake with Sword at G7 Lunch in UK
Queen Elizabeth cuts cake with a 3-ft long ceremonial sword during G7 event. Video Viral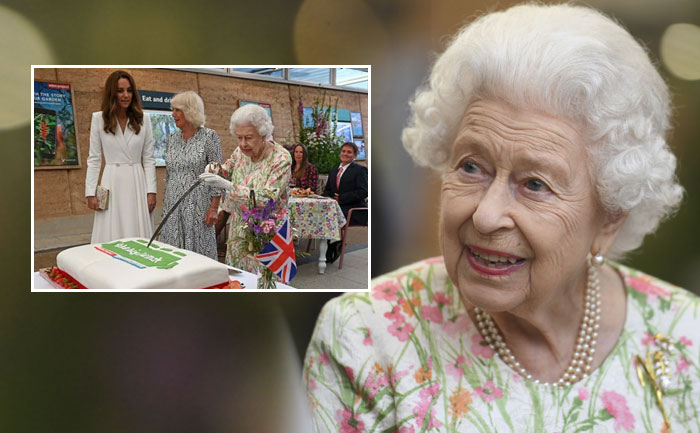 Queen Elizabeth II on Saturday cut a cake with a sword at the Big Lunch held on the sideline of the G7 summit. The lunch was hosted by the educational charity Eden Project, an indoor rainforest centre. They presented the Queen with a cake to mark her official birthday. The Queen's birthday is celebrated on the second Saturday of June every year.
Queen Elizabeth attended the afternoon reception along with Catherine, Duchess of Cambridge, and Camilla, Duchess of Cornwall. When the Queen was presented with a cake, she opted to cut it with a ceremonial sword rather than a knife. When someone told her that a knife was available, the monarch promptly replied, "I know there is! This is something that is more unusual."
Sharing the video from the event, the social media handles of the Royal Family wrote, "The Queen, The Duchess of Cornwall and The Duchess of Cambridge thank local Big Lunch @edencommunities volunteers for their efforts supporting their communities through the challenges of the past year. Bringing together neighbours and communities to share in friendship, food and fun, The Big Jubilee Lunch will form part of The Queen's #PlatinumJubilee celebrations (sic)."
Watch the viral video here:
View this post on Instagram
Traditionally, the Queen uses a ceremonial sword to award knighthood. After the events of Friday, the queen's celebrated her official birthday on Saturday.
Also Read: Queen Elizabeth resumes royal duties post Prince Philip's death