Rahul Gandhi launches blistering attack on PM Modi, asserts we don't want two 'Hindustans'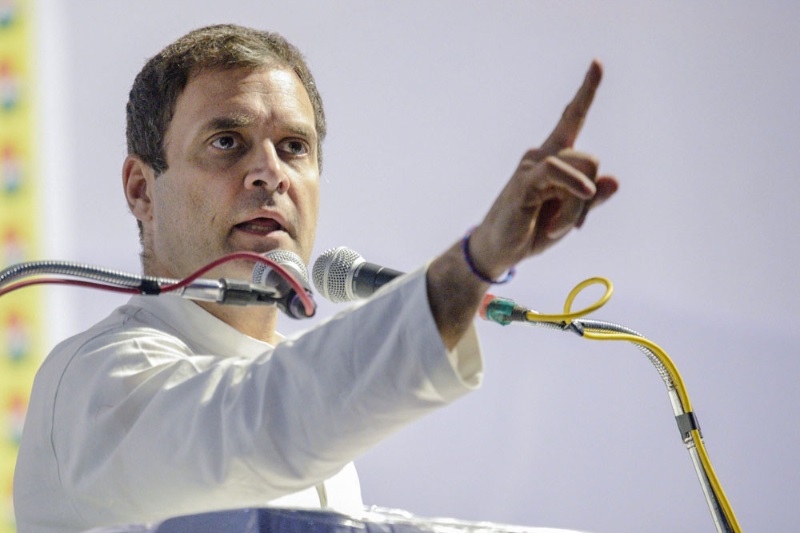 Congress President Rahul Gandhi launched a scathing attack on Prime Minister Narendra Modi while addressing a rally in Devri in Sagar district of poll-bound Madhya Pradesh.
Accusing the Narendra Modi government of favouring a few industrialists, Rahul Gandhi on Friday said, "we don't want two Hindustans, one of handful industrialists and another of common man.''
The Congress leader further said, "If we wanted two Hindustans, we would have hoisted two flags at Independence, one of 15-20 industrialists and one of the common man. We want one country and we want justice.''
Rahul Gandhi further asserted that if loans running into Rs 3.5 lakh crore of industrialists could be written off, farmers' loans could also be waived. He also repeated his promise of loan waiver in Madhya Pradesh within 10 days of forming the government. "If the Congress CM does not waive off loans in 10-15 days, other (CM) will do,'' he added.
On the occasion, Rahul Gandhi termed demonetisation as the biggest scam in the history of independent India, adding it would be proved that Prime Minister Narendra Modi had robbed the poor of their hard-earned money and given it away to a few rich.
He also noted that Modi does not talk about being a "chowkidar of the country and of tackling corruption. "If Modi says he is a chowkidar, people will respond that chowkidar chor hai," he said.
Gandhi also claimed that PM Modi cancelled the Rafale deal of 126 fighter aircraft with Dassault Aviation and HAL at a price of Rs 526 crore per plane without informing the Indian Air Force and the then defence minister Manohar Parrikar.
"Modi gave Rs 30,000 crore to Anil Ambani in this deal. This is the chowkidari he has done," he said.  "He (Modi) allowed the rich like Nirav Modi, Mehul Choksi, Vijay Mallya to flee the country with your money and made you stand in queues outside banks. Time will prove how Modi had robbed you and gave your money to few rich," he concluded.
However, Rahul Gandhi decided to cut his Madhya Pradesh visit short, in view of the Central Election Committee (CEC) meeting, scheduled to be held at 8 pm today, in New Delhi. He will be meeting senior leaders to take stock of the impact of ticket distribution in Rajasthan.
The Congress party on late Thursday night released its first list of 152 candidates for the December 7 Rajasthan Assembly elections. After the list was announced on Thursday, supporters of many candidates who didn't get tickets protested at the AICC headquarters in Delhi, apart from protesting outside Gandhi's residence.
Also Read: Rahul Gandhi is afflicted with 'Modiphobia': Amit Shah