Rahul Gandhi: Unemployment rate highest in last 20 years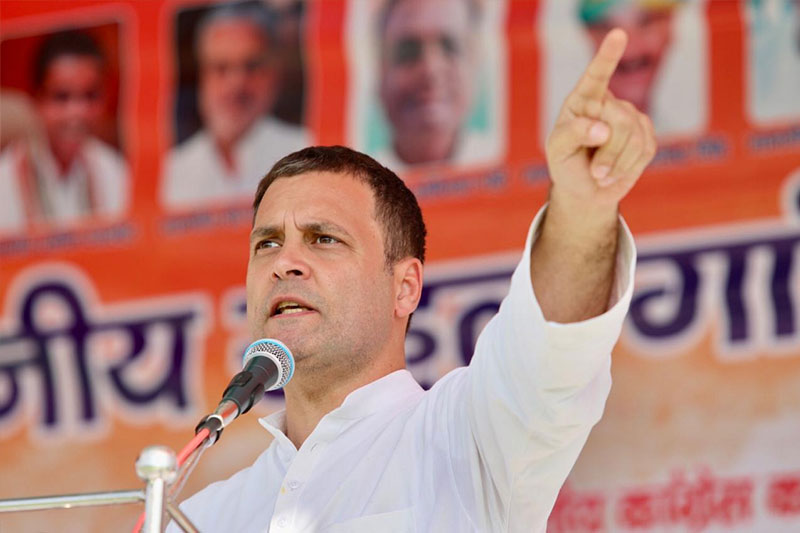 Congress president Rahul Gandhi took on Bharatiya Janata Party-led Narendra Modi government at Centre and Vasundhara Raje in Rajasthan for making fake promises and not fulfilling them. He was of the opinion that the BJP governments have thug the innocent people on jobs, MSP of crops and black money. He also stated that unemployment rate highest in last 20 years.
Addressing his second electoral rally in poll-bound Bari of Rajasthan, the Congress president stated that Vasundhara Raje is now promising to waive electricity bills. He asked, "Few days before elections CM Vasundhara Raje says she will waive off electricity bill. What was she doing in last 4 years? Why couldn't she do it before?"
Gandhi asked the question on employment promise made by BJP government. He said, "Youth were promised 2 crore jobs, but instead, the youth of Rajasthan seeking employment are being beaten up and chased away from Gujarat. This is the reality of PM's promise." Stating that unemployment in India is highest in last 20 years, he said. "The unemployment rate in India is the highest in 20 years. Nirav Modi, Mehul Choksi who PM Modi refers to as Mehul 'Bhai', fled away from the country with Rs 35,000Cr of public money. How many jobs did they create?
Another point that Gandhi rose was of the MSP of crops. He said, "Right MSP to farmers, 2 crore jobs to youth was promised by Mr. Modi. But all we got was advertisement posters." He added that the government is benefiting the richest industrialists by ignoring the poor farmers. He stated, "India's richest industrialists have taken loans from banks worth Rs 12,50,000 Cr in last 4 years and refuse to pay back. But when small businesses, farmers ask for bank facilities, they are denied."
Gandhi even commented on Goods and Services Tax and demonetisation. He said, "Mr. Modi gave Demonetisation, Gabbar Singh Tax and took away public's money. We will open banks to everyone and you will be the one to create employment."
The Congress president stated that country does not run on promises but on the ethics and delivery of these. He said that the Congress government will be of the people and any member who does not serve the people, will be removed from the post.
ALSO READ: Rahul Gandhi: Vasundhara Raje compromised with women's health, youth issues