Rahul Gandhi: Vasundhara Raje compromised with women's health, youth issues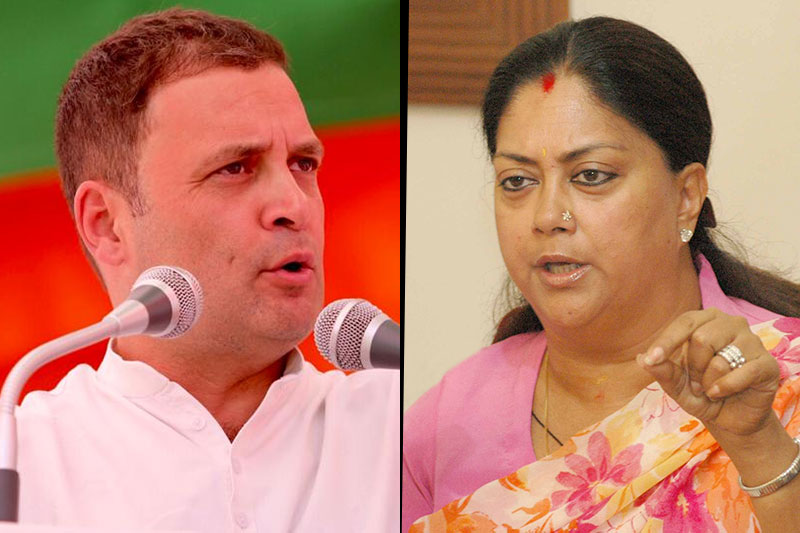 With the announcement of Assembly elections in the state, political parties have started camping in Rajasthan. Congress president took to centrestage on Tuesday and attacked Chief Minister Vasundhara Raje for failing to fulfill the promises made to the people of the state and safeguard women. He accused her of helping corporate friends loot poor people's money and let farmers's suffer.
Addressing an electoral rally in Dholpur in Rajasthan, Congress chief stated that though being women chief minister, Vasundhara Raje compromised on the safety of women in the state. Accusing her for being irresponsible on issues related from domestic violence to rape, Gandhi said that there is an environment of fear among women.
He said, "Though being women chief minister, Vasundhara Raje did not understand the pain of women in state and compromised with their security. Incidents of issues related from domestic violence to rape have created a fear among the women in state."
Adding on, Gandhi said under the current BJP rule neither the new-born nor the lactating women are safe. Taking on the poor healthcare situation, the Congress president said, "Due to the wrong policies of Vasundhara government, one or the other person in some category sat on the street. Rather than listening to their grievances, Vasundhara government adopted an arrogant attitude. This will result in BJP government's exit this time."
Raising the issue of unemployment in the state, Gandhi said, "Youth of Rajasthan came on the streets with their demands and were awarded with sticks. Rather than listening to their demands, she called them 'Loafers'. This ego of BJP will be shattered by the youth only."
ALSO READ: Rahul Gandhi: 'Beti Padhao, BJP se Beti ko bachao'