Rahul Gandhi criticised for his tweet on International Yoga Day; troll says, "grow up"
He tweeted a couple of pictures of dogs doing yoga poses with Army men.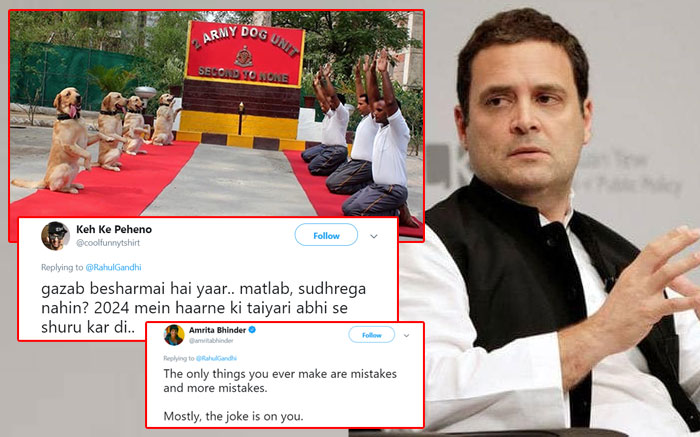 On Yoga Day, Congress President Rahul Gandhi took a jibe at the International Yoga Day and made a mockery of it. He took to his Twitter handle and tweeted pictures of the Yoga Day celebrations of the Indian Army's dog unit with a caption, "New India". In the picture, we see the dogs of the unit doing yoga poses along with the soldiers.
Rahul Gandhi gave an invitation to trolls with his tweet and Twitterati has been slamming him right, left and centre. One user said, "Beautiful pictures BUT distasteful tweet" while one commented, "The dogs are more loyal, more smarter & more deshBhakt than you Mr Rahul."
Have a look at the tweets below where people are criticising Rahul Gandhi.
More disciplined, affable and trustworthy than any Congressi ever.

— Masakadzas (@masakadzas) June 21, 2019
This was probably the cutest most adorable part of Yoga day but count on you @RahulGandhi to mock it. Pretty much sums up your tone deaf election campaign. Hopeless. ?‍♀️

— Rupa Subramanya (@rupasubramanya) June 21, 2019
gazab besharmai hai yaar.. matlab, sudhrega nahin? 2024 mein haarne ki taiyari abhi se shuru kar di..

— Keh Ke Peheno (@coolfunnytshirt) June 21, 2019
You really don't want to grow up, don't you?

My dear friend, Modi Govt is here to stay. The sooner you accept this fact, the happier you will be in your old age.

— L̶o̶n̶e̶ Crusader 2.0 ?? (@seriousfunnyguy) June 21, 2019
Whom you are mocking here. Now i realized i took right decision before couple of years to leave party of Anti-nationals (Congress).

— Ibn Sina (@Ibne_Sena) June 21, 2019
Dogs are better than pappu

— himashu kushwaha (@HimashuKu) June 21, 2019
You are insulting Army Dog Squad, This is real reason your party couldn't even qualify for Leader of Opposition, Brainless

— Mëëřå ?? (@imeerage) June 21, 2019
A few days back Rahul Gandhi was criticised for using his phone during President Ram Nath Kovind's address in the Parliament. Meanwhile, he has resolved to quit as Congress chief.
Also Read: Rahul Gandhi Confirms His Resignation As Congress Chief