Rains lashes Northern States: Cloudburst in Uttarakhand leaves 18 dead
Rains lashes Northern States, Cloudburst in Uttarakhand, Delhi on Flood Alert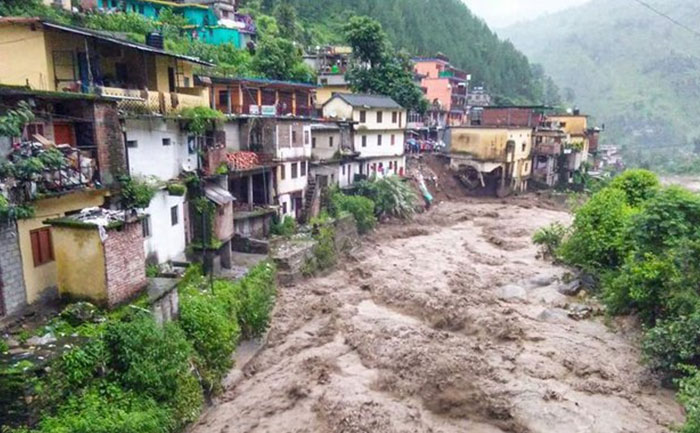 After Southern and Western States, the Northern states of India are facing the fury of Monsoon. The heavy rains have left destruction in its part that has killed many and left hundreds of tourists stranded in the hilly regions of the North due to landslides that have blocked the major routes. Due to the torrential rainfall, the educational institutes too have been shut by the government.
Office of the District Magistrate, Kullu: Due to heavy rains & incidents of landslides in the region, all private & government educational institutions in the district will remain closed on 19 August. #HimachalPradesh pic.twitter.com/4P8NOcXV57

— ANI (@ANI) August 18, 2019
Eight people died in Shimla, two each in Kullu, Sirmaur, Solan, and Chamba and one each in Una and Lahaul-Spiti districts, officials informed. At least three people were killed in a landslide in Shimla.
Himachal Pradesh: A portion of a footbridge over Sutlej river in Chaba area of Shimla collapsed yesterday after the water level in the river increased due to heavy rainfall in the region.
The bridge provided connectivity to Shakra, Baaladi, Bindla, & Jedvi villages pic.twitter.com/XxPypEhVmi

— ANI (@ANI) August 19, 2019
In Uttarakhand, three people were killed and around 22 went missing as heavy rains lashed the State. Cloudbursts in Mori block of Uttarkashi district wreaked havoc in several villages, damaging several houses in Arakot, Makuri and Tikochi villages. A woman was washed away in Dehradun district when her car fell into a seasonal river, they said.
Uttarkashi: Finance Secretary Amit Negi, Inspector General (IG) Sanjay Gunjyal, & Uttarkashi District Magistrate (DM) Ashish Chauhan takes stock of the situation in Arakot following cloud-burst in the region. #Uttarakhand pic.twitter.com/NilMR13Fpv

— ANI (@ANI) August 19, 2019
Uttarakhand: Rescue operations underway in Uttarkashi's Mori tehsil following cloudburst in the area. pic.twitter.com/dm1rFNw9gi

— ANI (@ANI) August 19, 2019
The India Meteorological Department (IMD) informed that Sunday`s showers were the highest rainfall recorded by the state in 24 hours in Shimla district, over the past 70 years. It further said that district will continue to witness thunderstorm and heavy rainfall over the next two days.
India Meteorological Department, Dehradun: Heavy to very heavy rainfall likely to occur at isolated places in Kumaun region during the next 24 hours. #Uttarakhand pic.twitter.com/MsFsHtrcA7

— ANI (@ANI) August 19, 2019
A Balley bridge near Kullu town was washed away due to flash floods. As a precaution, excess water was released from Satluj Jal Vidyut Nigam Ltd`s (SJVNL) 1,500 MW Nathpa Jhakri plant — India`s largest hydro project in Kinnaur district — which led to flooding in the Satluj river, IANS reported.
Heavy rainfall occurred in most of the state with Kangra, Kullu and Chamba districts receiving maximum downpour in the past 24 hours led to situation being worsened, Meteorological Centre of Shimla said. The state as a whole received 102.5 mm and this was 1,065 per cent more than normal for a day, the IMD said. The highest rainfall 252 mm was recorded in Bilaspur district, which was 2,586 per cent more than normal, it added.
As heavy to very rainfall is likely in the state over the next 24 hours, the Kullu and Shimla district administration announced the closure of all educational institutes till Monday.
Jalandhar: Flood-like situation in 7 villages of Phillaur following heavy rainfall. #Punjab pic.twitter.com/tDx8wd5VaM

— ANI (@ANI) August 19, 2019
The situation in Punjab and Delhi too is worsening with major rivers steadily rising over the danger mark due to heavy rainfall. Most of the people in the low lying areas have been shifted to safe places.
Also Read: Mumbai Rains Update: Central Railways suspends services on main line and harbour line