Rajasthan Assembly elections: Amit Shah says Congress became private firm of Gandhi-Nehru family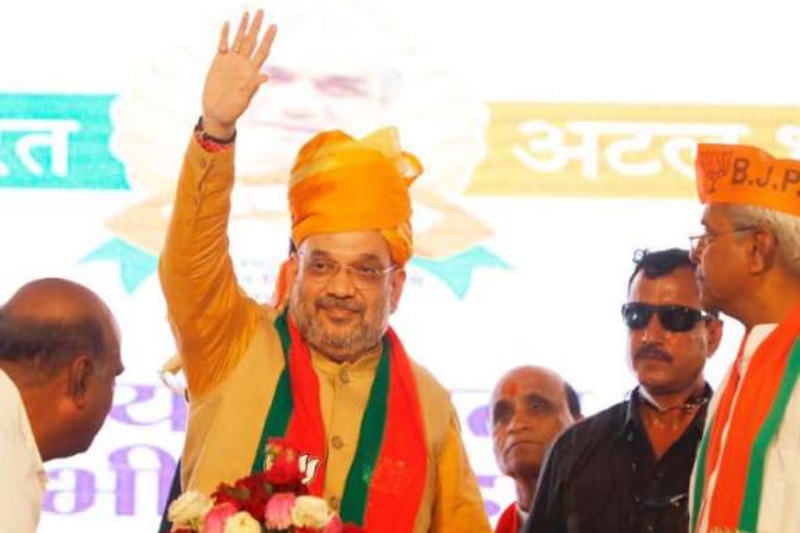 Bharatiya Janata Party (BJP) president Amit Shah on Friday took a dig at the Congress party and said that Rahul Gandhi was day-dreaming of forming the next government in Rajasthan. He said Congress has become a private firm of Gandhi-Nehru family.
While addressing an election rally in Nagaur in the Marwar region, Amit Shah asserted that the BJP will create history in Rajasthan by winning the elections again.
Taking a jibe at Rahul Gandhi and Congress, Amit Shah said that BJP has not lost a single election after Narendra Modi was made the Prime Minister. "You can check the electoral history of the country after Narendra Modi became Prime Minister. You know what will be the result of Rajasthan," he said.
He also appealed people to vote in large numbers in favour of the BJP. The BJP president said, "I know BJP will form the government in Rajasthan again and the foundation stone of this government will be laid down by Nagaur."
Coming down at Congress heavily over its lack of internal democracy, Amit Shah said the party had become a private firm of the Gandhi-Nehru family. "It (Congress) has become a private firm of Gandhi-Nehru family. They are ashamed to say 'Bharat Mata Ki Jai'. They say 'Sonia Mata Ki Jai' and feel proud of it."
Taking on Sachin Pilot's statement seeking an account from the Narendra Modi government, he said that facts speak for themselves. When your (Congress) government was at the Centre, Rajasthan was given Rs 1.09 lakh crore. But Modiji gave Rs 2.63 lakh crore to Rajasthan," he noted.
"This is the land of Bhairav Singh Shekhawat and Sundar Singh Bhandari. The BJP government is the like the leg of Anga, no one can dethrone the BJP. The BJP will return to power with an absolute majority," he concluded.
The Assembly elections in Rajasthan will take place on December 7 and the results will be announced on December 11, along with four other states.
It is to be known that in 2013, under Raje's leadership BJP claimed 163 of the 200 Assembly seats, leaving 21 constituencies for Congress. The ruling party has put up faith again in Vasundhara Raje and declared her as its chief ministerial candidate for Rajasthan. However, Congress has not declared their CM candidate.
Also Read: Rajasthan Assembly elections: BJP manifesto focuses more on jobs