Rajasthan Assembly elections: BJP manifesto focuses more on jobs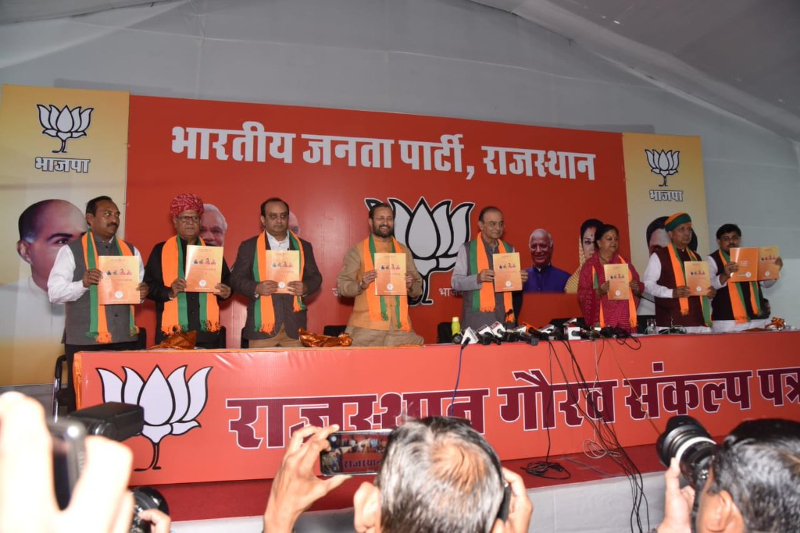 The Bharatiya Janata Party (BJP) on Tuesday released its manifesto for the upcoming Rajasthan Assembly elections. Notably, Chief Minister Vasundhara Raje along with Finance Minister Arun Jaitley and other senior leaders of the state released the manifesto which has been named 'Gaurav Sankalp'.
Several highlights of the BJP manifesto includes the creation of 50 lakh jobs in private sector, 30, 000 jobs in government sector every year, Rs 5,000 per month will be given as unemployment allowance to eligible youths above the age of 21 years etc.
Speaking on the occasion, CM Vasundhara Raje said that her government completed 95 percent of work which were promised during the state assembly elections in 2013. "BJP met 630 of 665 promises made in 2013 Rajasthan manifesto," CM Vasundhara Raje told the media in Jaipur.
Talking about the achievements of her government, Raje said that they worked to strengthen women from the time of their birth to old age. She said that the government gave laptops, scooty and cycles to girls in schools. She added that state government worked to ensure better facilities for female students through the Rajshree Yojana.
While Finance Minister Arun Jaitley asserted that the manifesto envisages the route to the future.
BJP Rajasthan manifesto: Highlights
* 50 lakh jobs to be created in the private sector in the next five years.
* Rs 5000 per month unemployment allowance to people without jobs in the state.
* Aim to double the income of farmers.
* Yoga Bhavan to be constructed in all districts of the state.
The Assembly elections in Rajasthan will take place on December 7 and the results will be announced on December 11, along with four other states.
It is to be known that in 2013, under Raje's leadership BJP claimed 163 of the 200 Assembly seats, leaving 21 constituencies for Congress. The ruling party has put up faith again in Vasundhara Raje and declared her as its chief ministerial candidate for Rajasthan. However, Congress has not declared their CM candidate.
Also Read: Rajasthan Assembly elections: PM Modi urges to give BJP resounding victory