Rajasthan Assembly elections: BJP's first list of 131 candidates has 25 new faces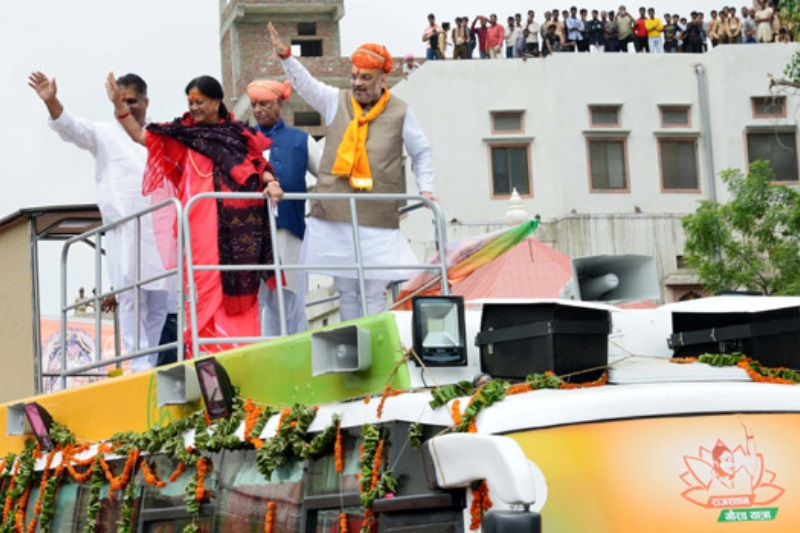 On Sunday, the BJP announced its first list of 131 candidates for the Rajasthan assembly elections. Rajasthan state Chief Minister Vasundhara Raje will be contesting from Jhalrapatan, a seat which she has been representing since 2003.
Notebly, a number of sitting legislators' names are dropped from the list or they have been shifted to other constituency. Kailash Meghwal, who is the speaker in the outgoing Rajasthan assembly has been shifted from Shahpura in Bhilwara district to Pilani in Jhunjhunu district.
The list was declared by senior party leader JP Nadda following a meeting of the BJP central election committee which was attended by Prime Minister Narendra Modi, party president Amir Shah, Chief Minister Vasundhara Raje, besides other top leaders.
The party has included the name of its Lok Sabha lawmaker from Barmer Sona Ram Choudhary.
At the meeting, Mr Nadda said that the party has fielded 25 new faces. Also, BJP sources told news agency PTI that 85 sitting legislators have found their names on the first list.
Mr Nadda told reporters, "Party candidates for all the seats were discussed in the meeting. Names of other nominees will be announced soon."
For the upcoming Assembly elections in Rajasthan, BJP is facing a strong challenge from a resurgent Congress with the opposition party winning a number of by-polls in the last couple of years.
Though a number of opinion polls have given an edge to the Congress, but the BJP insists that it will be able to repulse the opposition's challenge.
So far, in 2013 elections, BJP under Ms Raje has won a whopping 163 of the 200 assembly seats in the state, giving the Congress its worst ever drubbing at its hands.
However, for the last two decades, Rajasthan has witnessed that the incumbent party being voted out.
Also read: Chhattisgarh Assembly elections: Congress has maximum candidates with criminal cases