Rajasthan Assembly Elections: Vasundhara Raje files nomination from Jhalrapatan seat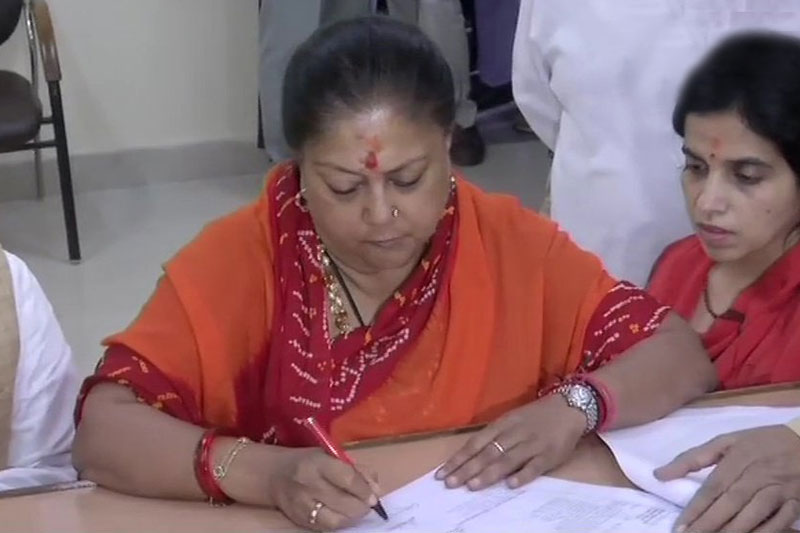 Rajasthan Chief Minister Vasundhara Raje on Saturday filed nomination from Jhalrapatan constituency in Jhalawar city for the upcoming Assembly elections, scheduled on December 7. Along with Jhalrapatan, Raje also filled the nomination for two other seats.
Along with Raje, his son Dushyanṭ Singh, daughter-in-law Niharika and Union Minister Shahnawaz Hussain were present at the Jhalawar secretariat. It is to be known that Bharitiya Janata Party has till now released a list of 162 candidates for the polls and noṭ a single Muslim candidate's name featured, even in the second list.
Rajasthan Chief Minister Vasundhara Raje files her nomination for the upcoming Assembly Elections at Jhalawar secretariat pic.twitter.com/jjmJPOmxXd

— ANI (@ANI) November 17, 2018
In the first list of 131 candidates, the party dropped 25 sitting MLAs and gave tickets to 12 women. Also, 85 incumbent legislators have been repeated, while 25 new faces featured in the list. New entrants include 17 from Scheduled Caste and 19 from Scheduled Tribe.
Citing the anti-incumbency and pre-poll analysis, BJP even dropped sitting MLAs like Babulal Verma, Rajkumar Rinwa and Dhan Singh Rawat, and even MLA Gyan Dev Ahuja. In the previous Assembly, the Raje Government secured 163 seats while Congress could manage only 21 seats. The poll results will be declared on December 11, along with four other states.
ALSO READ: Rajasthan Assembly elections: BJP drops Gyan Dev Ahuja, others in their first list