Rajnath Singh: Congress played joke with people of Mizoram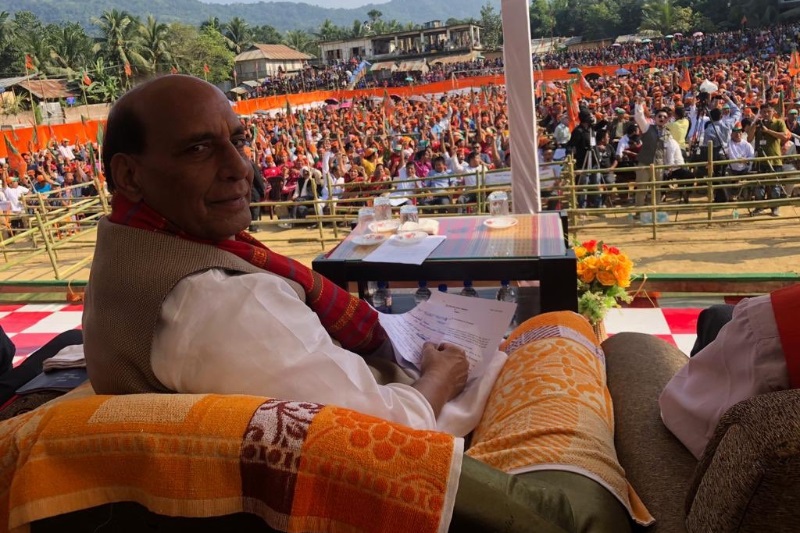 Home Minister Rajnath Singh on Friday accused Congress of having failed to take up any development related steps in the past one decade.
Addressing three election rallies in the Bru inhabited areas, Rajnath Singh said that Chief Minister Lal Thanhawla led Congress government has failed on both counts of development and governance.
"The Congress party played a cruel joke with the people of Mizoram. The party failed on both the fronts of development and governance. I must say that in the past 10 years no development measures were taken by the Congress regime," he said.
The Home minister also rued about the dilapidated state of roads in the state saying, "On my way to the venue I got confused whether the potholes were in the middle of the roads or roads are in the middle of the potholes."
The Home Minister further promised that all roads would be made pothole free within six months, if people vote Bharatiya Janata Party to power in the upcoming state assembly elections. He also highlighted the developmental plans of the Narendra Modi led central government in the Northeast and specifically in Mizoram.
"PM Modi has taken a decision to bring revolution pertaining to connectivity in Mizoram for which an agreement has been signed with Japan to improve road and network connectivity in the Northeast," Rajnath Singh asserted.
He also said that a separate ministry, Ministry for Development of North Eastern Region has been created for its development. "We have also created a separate ministry for the development of North East India. The development of the Northeast is our topmost priority. It is compulsory for ministers to visit the region at least twice to review the progress of development," he added.
"The BJP government voted in other states of the Northeast has performed extremely well while in power," he concluded.
The elections for 209-member Mizoram assembly will be held in the single phase on 28th of this month. The results will be declared on December 11. Of 209, the ruling Congress has fielded 40 candidates while opposition parties in the state, Bharatiya Janata Party (BJP) and Mizo National Front (MNF) are contesting 39 and 40 assembly seats respectively. Chief Minister Lal Thanhawla is contesting from two seats – Serchhip and Champhai South.
Also Read: Cyclone Gaja: Centre assures Tamil Nadu government of all possible assistance