Raksha Bandhan 7 Bollywood songs that celebrate brother-sister bond.
These Bollywood Raksha Bandhan song are a must listen this Rakhi Day that falls on August 15, 2019.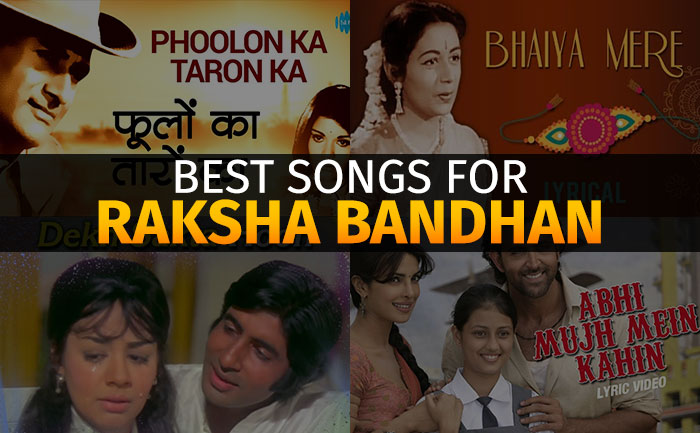 India is a land of festivals and one particular most loved festival is Raksha Bandhan or Rakhi. The literal meaning of Raksha Bandhan is the bond of protection. On this pious occasion brothers and sisters promise eternal love for each other. Sisters tie a sacred thread on the wrist of their brothers and pray for their long life. In return, the brothers take a vow to protect their sisters from every untoward happening and obstacle and also give their sisters a gift. This festival rejoices the incredible bond shared by brothers and sisters.
The festival that falls on Full Moon day in the month of Shravan and is also known as Rakhi Purnima. It falls on August 15 this year. Rakhi is a secular festival, and celebrated across India, irrespective of state, caste, and religion. It is no longer limited to blood relations or for that matter the love between a brother and a sister. Today, even sisters tie each other rakhi with a promise of lifelong love and protection, while friends celebrate this festival with a promise of eternal love and loyalty. Today Raksha Bandhan encompasses a lifetime practice of moral, cultural and spiritual values.
No festival is complete without some song and dance it can be said the same for Raksha Bandhan. We have many Bollywood songs and geet's to make the day more special for you.
Here are seven Bollywood Raksha Bandhan songs for you:
1. Phoolon Ka Taaron Ka:
This evergreen number from 'Hare Rama Hare Krishna' is an all-time favourite. The song features evergreen hero Dev Anand and the gorgeous Zeenat Aman. The popular pair had played siblings in the film who were separated in childhood. The song is by Kishore Kumar and was a much loved by fans. It is a very popular Raksha Bandhan song.
2. Bhaiya Mere Rakhi Ke Bandhan Ko Nibhana:
The popular song is another much-loved song from classic Hindi film 'Chhoti Bahen' (1959). The film stars Nanda and Balraj Sahani, essaying the roles of Choti Behan and Bade Bhaiya. The song was featured in the Binaca Geetmala annual list 1959 and was listed on number 21. The song was sung by Lata Mangeshkar and was composed by Shankar-Jaikishan. It aptly describes the bond shared by brothers and sisters.
3. Ye Rakhi Bandhan Hai Aisa:
Ye Rakhi Bandhan Hai Aisa is a 1972 song from the movie 'Beimaan' It another perfect geet for Raksha Bandhan. The song features Mr. Bharat Manoj Kumar and actress Nazima. The much-loved song is sung by Lata Mangeshkar and Mukesh. It is seeped in emotion and brings forth the true cultural and spiritual values of Raksha Bandhan.
4. Dekh Sakta Hoon:
Farida Jalal is one of Bollywood's favourite sister. The song from 'Majboor 'aptly portrays a brother's love for his handicapped sister who knows that he will not live that long to witness her sister's wedding. The film stars Amitabh Bachchan and Farida Jalal as his sister. The popular number is sung by Kishore Kumar. It brings forth the love and protective attitude a brother has for his sister.
5. Behana ne Bhai Ke Kalai Se:
'Resham Ki Dori' is 1974 film and stars Dharmendra in the lead role. Dharam Paji plays the role of a protective brother. 'Behna Ne Bhai Ki Kalai Se' is an iconic song in the realm of sibling love. The song is sung by Suman Kalyanpur. The souful lyrics will touch your heart.
6.Abhi Mujh Mein Kahin Agneepath:
It is probably the most emotional number in this list. There isn't any celebration of sorts here, but the sheer emotions attached to the sequence when Hrithik's Vijay reunites with his little sister Shiksha after years can leave anyone with moist eyes. Amitabh Bhattacharya's heart-wrenching lyrics combined with Ajay-Atul's beautiful music and Sonu Nigam's deep soulful voice make it a favourite for the current generation.
7. Ise Samjho Na Resham Ka Taar:
The song is sung by Sadhana Sargam and is a track from 'Tirangaa'. The song is filmed on Varsha Usgaonkar who is singing the song for her three brothers. The song is sung after one of her brother's questions her the importance and power of rakhi.
Happy Raksha Bandhan To All.
Also Read:  Raksha Bandhan 2019: 7 Best Gifting Ideas For Your Siblings