After Lakshmi's NTR, Ram Gopal Verma To Make A Biopic On Sasikala?
After Getting Rave Reviews For Lakshmi's NTR Biopic, Sensational Filmmaker Ram Gopal Verma To Make A Film Based On Sasikala, The Close Associate of Jayalalitha.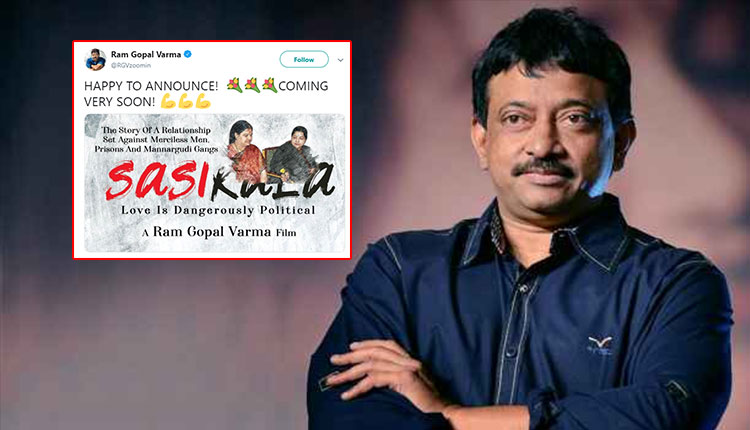 The controversial filmmaker Ram Gopal Verma, who is currently riding on the success of his latest film 'Lakshmi's NTR', is likely to make another biopic based on the life of Sasikala, the close aide and friend of former Tamil Nadu Chief Minister Jayalalithaa, who led AIADMK from 1989 until she died on 5 December 2016.
It is to be noted that Ram Gopal Verma, who himself took to Twitter and announced the new biopic based on the life of Sasikala. Verma shared a picture showcasing Sasikala is standing next to Jayalalitha. The text on the picture reads, "The story of the relationship set against merciless men. Prisons and Mannargudi Gangs."
HAPPY TO ANNOUNCE! 💐💐💐COMING VERY SOON! 💪💪💪 pic.twitter.com/ZccF4mufNN

— Ram Gopal Varma (@RGVzoomin) March 31, 2019
Notably, the film Lakshmi's NTR was not released in Andhra Pradesh as the state court had ordered a stay on the film till 3 April 2019. Following the court's order, Verma had alleged a political agenda behind the move.
The Supreme Court of India on Monday refused to hear an urgent plea seeking a stay on the release of Lakshmi's NTR. The plea was dismissed by the bench headed by Chief Justice of India Ranjan Gogoi.
Lakshmi's NRT featuring P Vijay Kumar, Yagna Shetty, Sritej and Aningi Rajasekhar in the pivotal role has been leaked online by the pirated website Tamilrockers.
According to reports, the director has projected AP chief minister as the backstabber who staged a coup to dethrone NTR from the CM post. This could be one of the reasons why the ruling party, TDP (Telugu Desam Party), headed by N Chandrababu Naidu didn't want the film to release ahead of the 2019 Lok Sabha Elections as it might malign his image.
Also Read: Lakshmi's NTR Full Movie Leaked Online To Download By Tamilrockers 2019