Ram Mandir Bhumi Pujan: PM Narendra Modi Offers Prayers at Hanuman Garhi Temple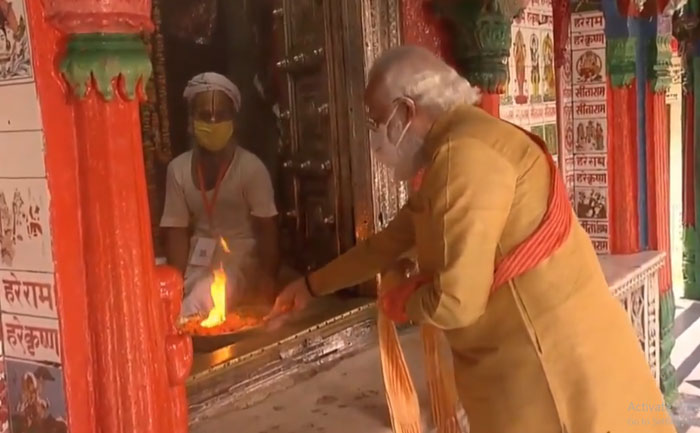 Prime Minister Narendra Modi arrived in Ayodhya around 11:30am on August 5, 2020. The PM took a helicopter ride from Lucknow to reach the venue where he was greeted by CM Yogi Adityanath. PM Modi will be participating in the Ram Mandir Bhumi Pujan along with Chief Minister Yogi Adityanath and many other eminent personalities. The 'bhumi pujan' of the grand temple in Ayodhya will take place at 12.40 pm at a spot where devotees believe that Lord Ram was born. Prior to the function, Modi took part in 'pooja' and 'darshan' at Hanumangarhi.
PM Modi arrives at the 10th century Hanuman Garhi Temple on arrival in #Ayodhya.

He will later proceed to Ram Janmabhoomi site to offer prayers to 'Ram Lalla' & lay the foundation stone for #RamTemple. pic.twitter.com/5PYhWNRPJ4

— ANI (@ANI) August 5, 2020
The PM offered prayers at the temple,
#WATCH Prime Minister Narendra Modi offers prayers at Hanuman Garhi Temple in #Ayodhya ahead of 'Bhoomi Pujan' of #RamTemple pic.twitter.com/yq2XsUlGKo

— ANI (@ANI) August 5, 2020
He was honoured with a silver crown & a stole with the name of Lord Ram printed there.
#Ayodhya: Prime Minister Narendra Modi presented with a headgear, silver 'mukut' and stole by Sri Gaddinsheen Premdas Maharaj, head priest of 10th-century Hanuman Garhi Temple. https://t.co/3kYihPoJOg pic.twitter.com/ZqamphD0LY

— ANI (@ANI) August 5, 2020
The PM traveled to 'Shree Ram Janmabhoomi' where he will take part in pooja and darshan of 'Bhagwan Shree Ramlala Virajman'.
Also Read: Ram Mandir Bhumi Pujan: PM Narendra Modi, UP CM Yogi Adityanath Others Arrive in Lucknow