Nach Baliye 9: Raveena Tandon On Judging Salman Khan's Dance Reality Show
Raveena Tandon on judging Nach Baliye 9: The launch episode was a blast, we shot for three days non stop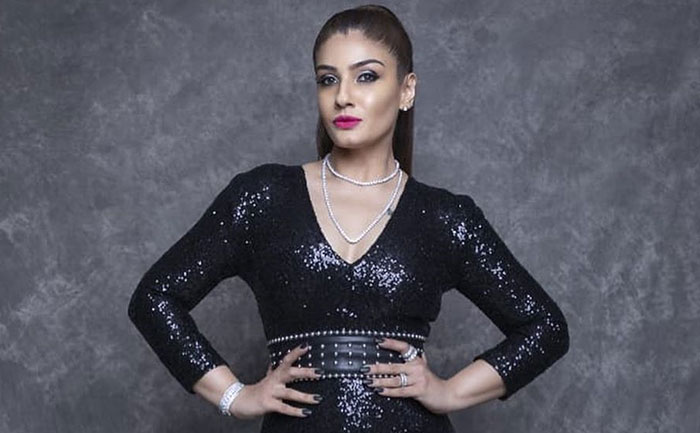 As we all know that Nach Baliye season 9 is on air and this year Nach Baliye is being produced by Salman Khan and actress Raveena Tandon and director Ahmed Khan are judging the 10 final contestants. Raveena Tandon in an interview shared how she feels about Nach Baliye 9. Let's see what she said.
In an interview with the Times of India, Raveena Tandon talked about how she and the team of Nach Baliye 9 shot the grand premiere of the show and the response they have been receiving from the audience.
"I think it's going to be a great season to watch,"  also Raveena Tandon said that  the USP of the show was that the launch episode will be a complete surprise, and the makers managed to do that and she is happy that the reviews that they have got so far have been great. Besides, Raveena is happy that this season, they have a good line-up of talented contestants. The contestants were not just kept as a surprise to the audience but even the judges waited impatiently to know the contestants," Raveena quoted as saying to the leading daily.
Divulging more detail about the show, Raveena informed that the makers of the Nach Baliye did not even reveal the identity of the contestants to them. She said that it was very fascinating to watch it unfold while sitting on the chair of the judge.
"Even while we were there, sitting as judges, it was a surprise. They kept it such a secret that even the vanity vans didn't have the names on them. So, one didn't know who was inside the van. It was like a James Bond movie set up," informed Raveena.
"The launch episode was a blast; we shot for three days non-stop. We had performances by television stars, who are friends of our contestants, which led to a unique introduction. It's really exciting and a lot of fun because the concept is so different, intriguing and interesting," she further said.
Even though Raveena has judged many other reality shows but she seems pretty excited and pumped up for this one. She said in an interview that she is the kind of person who will motivate others to perform better and is always sensitive towards the contestants.
"I have always been the kind of person who encourages and motivates others. I don't think judging means that you only sit and criticize. Everyone is trying to do their best and no one intentionally wants to give a bad performance, but sometimes things go wrong. A judge should be sensitive and give the participants' morale a boost. A good judge is basically one who points out the goof-ups, but also tells the participant that it's not the end of the road," Raveena shared.
Also read: Nach Baliye 9: Raveena Tandon & Salman Khan Dance On 'Kabhi Tu Chhalia Lagta Hai'