Viral: RCB fan girl shares the trauma she faced post instant stardom
RCB fan girl whose name is Deepika Ghose has expressed her feelings she went after instant stardom.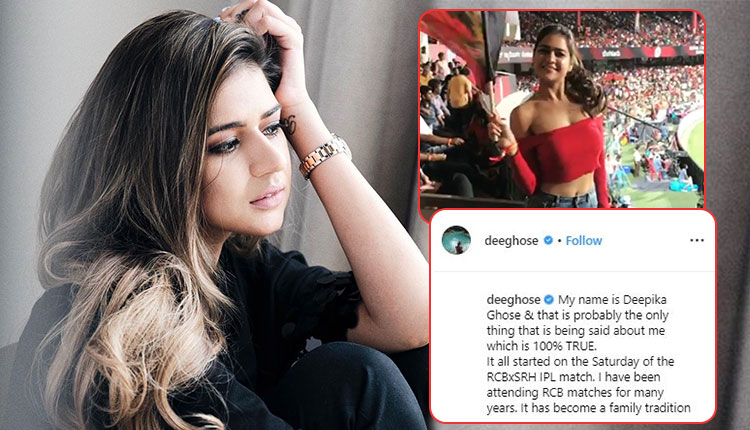 RCB fan girl Deepika Ghose became an overnight sensation when she went to watch a match of Royal Challengers Bangalore against Sunrisers Hyderabad on May 4. She was captured on camera and her picture went viral. She was seen in a red off-shoulder crop top and was cheering for RCB at the M. Chinnaswamy Stadium in Bengaluru. Her Instagram followers increased and she became an overnight star like the wink girl Priya Varrier.
She also posted a boomerang video holding RCB's flag and was cheering up for her favourite team.
Social media went frenzy about the girl and her video and pictures were circulated all over the internet. Random users have been stalking her, creating memes and some have even come up with fake accounts with her name. This has caused mental torture and trauma to Deepika and now she has taken to her social media handle to share how it affected her life.
Sharing a lengthy post, she wrote, "I am no celebrity, just an ordinary girl who was enjoying the match. I did nothing to warrant the kind of attention that ensued after the TV images appeared & I certainly did not seek it."
She further said, "I am disturbed by the unnecessary negativity. It has been an extreme case of abuse, trauma and mental torture. I am confused as to how people found my name/profile. My identity, privacy & life have been hacked in an instant. A lot of the overnight followers are men who have used this platform to be crude, vulgar, vicious & entirely disrespectful."
Here's her full post.
We are living in a digital world and every action is gauged. One click or action can make you get the sudden spotlight and let you face the positive or negative consequences of it.
Also Read: RCB Bowled Out On Just 70 Runs And Loses To CSK; Gets Trolled Mercilessly