5 Rock & Metal Albums That Are Turning 20 In 2020
The sound of music took a drastic shift over the last decade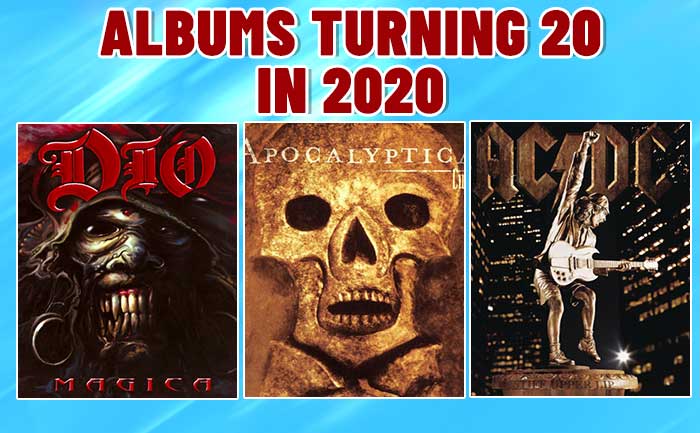 It seems absurd to think about but 2000 was exactly 20 years ago in 2020. While the future isn't as cool as films and music predicted, it isn't as apocalyptic either. While we don't quite have the cool bots of Real Steel to go boxing with, we have come far in terms of technology. Music that was once only available through stores is now just a click away with the arrival of the internet. Songs went from cassettes to DVDs to a quick download on your phone. However, access to music isn't the only thing that has changed. The sound of music took a drastic shift over the last decade. Rock and metal gave way to nu-metal and rap in the '90s. It is incredible but Rock & Metal albums that came out in 2000 will be turning 20 this year.
While a lot of Rock and Metal bands of the 90s could not make the transition to finding a new sound for the new decade, bands like Linkin Park rose to new heights in the 2000s. In addition, there were several acts that rose to the occasion and adapted to the turning tides.
However, with the turn of another decade, some of these revolutionary Rock and Metal albums will be turning 20.
10 Rock & Metal Albums That Are Turning 20 In 2020
Stiff Upper Lip was an AC/DC comeback of sorts as it had been 5 years since the band's last album "Ballbreaker" came out in 1995. There was a lot of speculation about the producer for the album. While the band had narrowed in on Bruce Fairbairn at first, his untimely death in May 1999 left them in a lurch.
Ultimately, the band went with the eldest Young brother George who had previously produced the 1988 AC/DC album "Blow Up Your Video" in addition to working on previous albums. "Stiff Upper Lip" was the last AC/DC album produced by George Young before his death in 2017.
"Stiff Upper Lip" was released on February 28, 2000 by East West and Elektra. It reached seven on the US Billboard while getting up to twelve on the UK sales list.
"Stiff Upper Lip", "Safe in New York City" and "Satellite Blues" were released as singles to promote the release of the album. While songs like "Let It Go", "RIP It Up", "Whistle Blower", "Rave On" and "The Cock Crows" were recorded they were not released on the album. The album cover featured a bronze statue of Angus. This was also displayed on the stage during the concert tour as a gigantic bronze statue.
After the terrorist attacks of September 11, 2001, iHeartMedia (then Clear Channel Communications), prepared a list of songs that were inappropriate to broadcast in light of the events. The list had many AC/DC songs including "Stiff Upper Lip".
Alice was looking for ways to re-invent his music as the landscape had changed drastically with the turn of the century. Grunge has mostly retired and the Rock/Metal genre was undergoing a transformation too. Bands like White Zombie were carving a new niche for themselves with a harder and heavier sound. When Alice performed with the White Zombie in 1196, he was inspired to combine his sound with the Zombie's style.
While the album was recorded digitally, Alice Cooper ensured that the music was played manually rather than digitally. "For me, technology takes the heart out of everything. Any time you make life easier for man, it suddenly takes the heart out of it. When I hear techno music, I hear music that is basically a machine's idea of music. I hear pulse but no heart. So it's an artificial pulse coming from an artificial place. In other words, when you hear a real drummer play, he makes mistakes. He has timing mistakes. I would personally rather hear that than a perfectly controlled machine that doesn't know how to make mistakes."
Alice worked with producer Bob Marlette to give the album a new sound that was suited to the changing times. The album was a revelation to a lot of people as there wasn't much of the original Alice Cooper sound that fans had come to love. While the album won the UK fans over and charted at 38, it tanked in the US with a 193 listing.
'Gimme' was the sole retail single from the album. With its macabre themes, one would not think Brutal Planet had anything to do with cartoons. However, inspiration for 'Can't Sleep, Clowns Will Eat Me' was derived from The Simpsons.
Bon Jovi was on a five-year hiatus before Crush came out. It was a mix of the classic Bon Jovi sound with more upbeat energy. While Crush did bring about some changes, it didn't change the essence of the band. You could listen to any song on the album and know that it was Bon Jovi playing.
The album featured great vocals, scathing guitar work, and the old pop-rock energy making it an instant hit with the old fans as well as new. While It's My Life sounded remarkably similar to Living On a Prayer, the song still managed to enthrall the fans of the rock or metal era. Say It Isn't So is a young at heart number featuring Friend's very own Joey Tribianni in the music video.
One of the songs on the album sums up this Bon Jovi album rather well. Just Older is exactly what has happened to Bon Jovi here. They're more mature, refined and well, Just Older. Crush was originally titled "Sex Sells" but that title was scrapped when the song didn't make the final tracklist.
One of Green Day albums is also turning 20 this year. Warning isn't the best of what Green Day has to offer. However, it isn't by far the worst either. In its essence Warning is an assortment of tracks that mix the classic Dookie Green Day and songs that were experimental trials for the band.
The title track Warning is a defiant rebellion against authority that has surprising mellow backing music. Walking is the band's most polished work that has very few jagged edges. "Church on Sunday", "Castaway", "Waiting", and " Hold On" are rock numbers that queue up the drum rolls and make some terrific noise all the while bringing a more diverse tone to the band's catalog. Perhaps the album's crowning achievements are Misery and Minority, two songs that are true to their rock roots but also showcase the growth the band has undergone.
While critical response for Warning was generally favorable, it failed to garner the success of previous Green Day albums. It was the band's first major album which didn't go multi-platinum.
This album saw the reunion Iron Maiden fans had thought they would never get to see. Former band member Bruce Dickinson and Adrian Smith collaborated to write new songs and perform like the good old days. This was especially surprising as when Dickinson left the band, Kerrang! Magazine asked him if he would ever consider an Iron Maiden reunion.
"I don't think it's a realistic possibility, but equally it's not something I'm dead against. A few gigs would be a really good laugh, but I'm not holding my breath."
Bruce Dickinson said of the album, "I think that this is genuinely the best-sounding Maiden album there's ever been. All respect due to Piece of Mind, which is my previous favorite record and still sounds good, but this is just one level of brutality beyond that… The musicianship within the band is so scarily good. People don't even realize how good the players are in Maiden. That's why it's possible for us to do it."
Brave New World began with a single number in the form of The Wicker Man which became the first single of the album.  As with other Maiden albums, the band looked to literature and films for inspiration. While The Wicker Man was inspired by a 1973 British horror film directed by Robin Hardy, the title track was written after Dickinson re-read the Aldous Huxley novel Brave New World. In addition, Out of the Silent Planet drew its inspiration from the 1956 sci-fi movie Forbidden Planet.
These are 5 Rock & Metal albums that are turning 20 in 2020. This list will be updated regularly so keep an eye out for more albums that would be turning 20 this year.
ALSO READ: Jimi Hendrix: 39 Best Songs By The Iconic Guitarist