Kerala Rains: Rs 500 crore not 'near enough', says Rahul Gandhi to PM Modi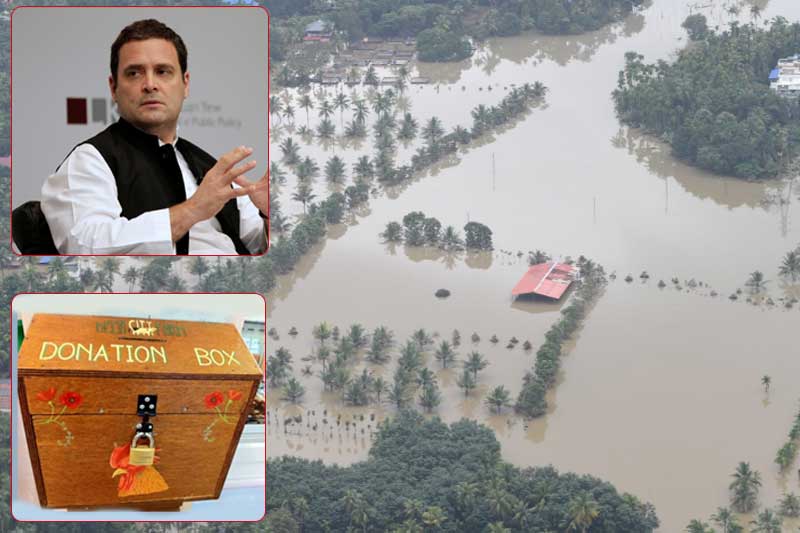 Congress president Rahul Gandhi , on Saturday urged Prime Minister Narendra Modi to increase the relief funds for Kerala, saying that that the allocated Rs. 500 crore wasn't, "near enough." Rahul took to Twitter and said, "Dear PM, Increasing funds allocated for Kerala relief to Rs 500 Cr is a good step but nowhere near enough. It is critical you declare the floods as a National Disaster. Please do not vacillate as the people of Kerala are suffering."
Earlier, he had called for Modi to declare the floods in Kerala as a, "national disaster," after the havoc it has wreaked over the past couple of days in God's Own Country. The calamity in the South Indian state is the deadliest in over a century after it claimed a total of 194 lives since August 8. Relief camps have sheltered around 3.14 lakh people. On Saturday morning, PM Modi oversaw an aerial survey of the areas affected by flood after which he declared a sum of Rs. 500 crore as an immediate aid to the problem. Modi also announced a sum of Rs 2 lakh to the immediate relatives of the people who lost their lives and a sum of Rs 50,000 to those who are severely injured, from the Prime Minister's National Relief Fund (PMNRF).
Rahul tweeted,"Dear PM, please declare #Kerala floods a National Disaster without any delay. The lives, livelihood and future of millions of our people is at stake." Rahul, in another tweet, also made an appeal to the Congress party workers to let out a helping hand to those in need in the flood-wrecked state.
Dear PM,

Increasing funds allocated for Kerala relief to Rs.500 Cr is a good step but nowhere near enough. It is critical you declare the floods as a National Disaster. Please do not vacillate as the people of Kerala are suffering. #KeralaFloodRelief https://t.co/AxabEOHftR

— Rahul Gandhi (@RahulGandhi) August 18, 2018
"Across Kerala & now Kodagu in Karnataka, heavy rainfall has caused widespread devastation. This is the time for our workers & leaders to demonstrate the core Congress values of service & love. Please focus all our resources & people to help those in need," he tweeted. A red-alert for 11 districts was issued by the Indian Meteorological Department on Saturday.  Kerala Chief Minister Pinarayi Vijayan's office said that the occurrence of heavy rainfall is likely in all districts barring Thiruvananthapuram, Kollam and Kasaragod.
Also Read: Conditions for women have degraded by 3,000 years: Rahul Gandhi