Conditions for women have degraded by 3,000 years: Rahul Gandhi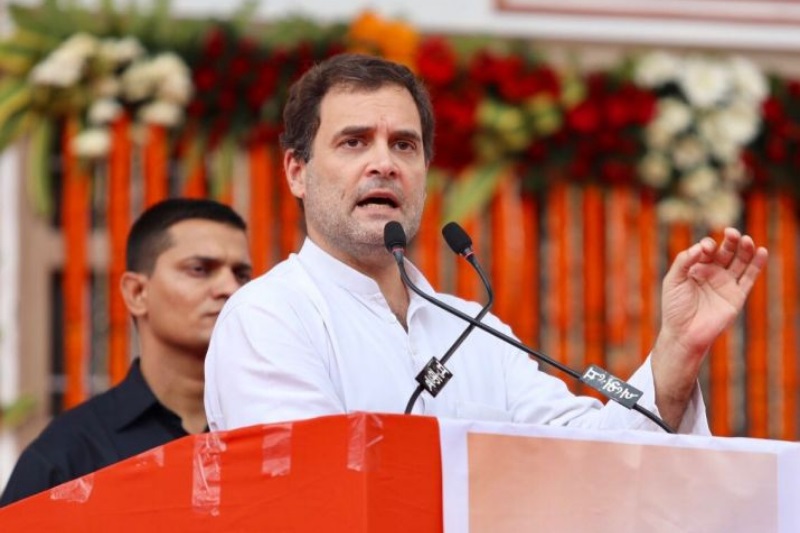 Congress president Rahul Gandhi launched his poll campaign in the state capital Jaipur on August 11 and took a dig at Prime Minister Narendra Modi, asserting that conditions for India's women have degraded not just by 70 years, but "3,000 years".
"Thanks to your government, living conditions for women in India have gone back not just by 70 years, but 3,000 years," Gandhi said, adding, "Not just women. Your promise was to uplift small farmers and businessmen as well."
The Congress leader also said that the Modi and Vasundhara Raje governments do not care about the welfare of the people and reinstated the unsafety of the country by saying that women can't step out of their houses without any fear.
"PM Modi had promised two crore jobs, Rs 15 lakhs in every account and women's safety, but he has failed on all fronts. When I raised the issue of Rafale deal and corruption in Parliament, PM Modi did not spare a minute to answer my questions. He could not look me in the eye," said Gandhi.
He went on to accuse the BJP-led central government of ignoring farmers' plight and granting loan waivers to established businessmen.
"In the last two years, Modi Ji's government has waived off loans worth Rs 2,00,000 crore of 15 businessmen. I asked for loan waivers for farmers, to which his response was silence," Gandhi said at a rally held in Jaipur's Ramlila Ground.
"When industrialists don't repay loans, it is called a non-performing asset but when a farmer is unable to repay, he is called a defaulter. The PM hugs industrialists but not farmers," he added.
Gandhi then dabbled with the issue of Rafale deal and affirmed how PM Modi's government had purchased fighter jets from France at triple the rate at which the UPA government had bought them.
"UPA government had bought an airplane for Rs 540 crore while PM Modi gave Rs 1,600 crore to the French company for one aircraft," Gandhi said.
Rahul Gandhi also took on the BJP-led government on GST and demonetisation and said, "On November 8, the PM came on TV and said 'I don't like the Rs 500 and Rs 1,000 notes and will now stop their circulation'. Small businessmen were hit by demonetisation. And those who survived, were hit by Gabbar Singh Tax (GST). As soon as a Congress government is formed, we will change it back to goods and services tax where petrol and diesel will be included in the tax."
The rally held at Ramlila Ground saw thousands of party workers in attendance who had gathered from across the city.
Also Read: Rahul Gandhi on Rajasthan polls: No parachute candidate will get ticket this time