RSS may resort to 1992-like agitation for Ram temple if needed: Bhaiyyaji Joshi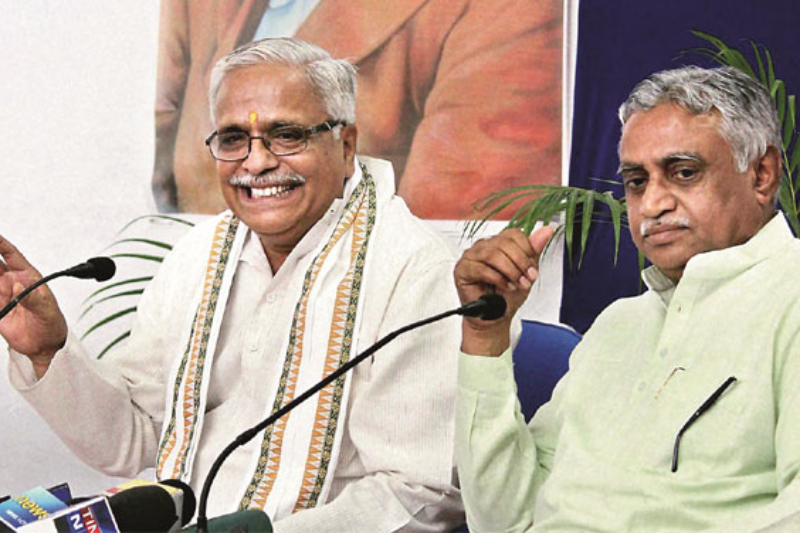 Rashtriya Swayamsevak Sangh (RSS) leader Suresh Bhaiyyaji Joshi on Friday hinted that it may resort to 1992 like movement to build Ram Mandir in Ayodhya. Reiterating its demand for the Ram temple, he said that a similar movement to be supported if required.
Addressing media after concluding his meeting with BJP president Amit Shah and RSS chief Mohan Bhagwat, Joshi said that the agitation for building the Ram temple has been going on for last 30 years, and it is natural that people want it to be built soon.
Taking a dig at the Supreme Court's recent order pushing the Ram Mandir issue to the next year, he said that Hindus were insulted and the court should take a decision on it soon.
"We are sure that the court will take note of people's sentiments. But the wait for the court verdict has been quite long. We expected that good news will come before Diwali," said Bhaiyyaji.
Adhyadesh jinko maangna hai wo maangenge, la sakte hain ki nahi wo nirnay sarkar ko karna hai: Bhaiyyaji Joshi, RSS #RamMandir pic.twitter.com/MCT7ZDEHbA

— ANI (@ANI) November 2, 2018
Adding that the RSS leader asked if "such a sensitive issue is not taken up on a priority basis, then which issues will be?"
Commenting on Ram Mandir ordinance, RSS joint general secretary, Manmohan Joshi said that it was for the government to decide whether to take a Parliamentary route to construct the Ram temple. Bhaiyyaji said in a media conference, "Adhyadesh jinko maangna hai wo maangenge, la sakte hain ki nahi wo nirnay sarkar ko karna hai (Let those who want to demand an ordinance, demand it. It is for the government to decide whether to bring it or not)."
"Ram sab ke hriday mein rehte hain par wo prakat hote hain mandiron ke dwara. Hum chahte hain ki mandir bane. Kaam mein kuch baadhaein awashya hain aur hum apeksha kar rahe hain ki nyalalya Hindu bhavnaon ko samajh ke nirnay dega (We hope that the court will understand Hindu sentiments and rule accordingly)," he added.
"The Ram temple is a matter of self-respect and pride. Like Sardar Patel had rebuilt the Somnath temple…the government should acquire the land for the construction of the Ram Temple and hand it over for its construction. The government should enact a law for this," Manmohan Vaidya said.
Also read: Farooq Abdullah takes a jibe at BJP says, 'Lord Ram will not help BJP win 2019 elections'