If we don't accept Muslims, it's not Hindutva: RSS President Mohan Bhagwat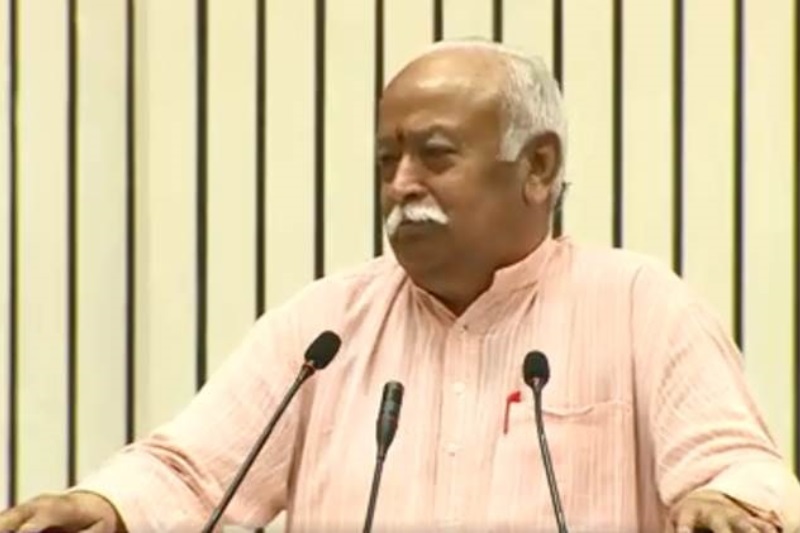 Amidst the continuous debate of BJP's "Hindutva" ideology, Rashtriya Swayamsevak Sangh (RSS) president Mohan Bhagwat on Monday said that "Hindutva" includes everyone and accepting Muslims is a part of it.
"Hindu Rashtra doesn't mean there's no place for Muslims. If we don't accept Muslims, it's not Hindutva. Hindutva is Indianness and inclusivity," he was quoted as saying by NDTV while speaking at the "Bhavishya ka Bharat – an RSS perspective" three-day summit.
The RSS chief had a day earlier spoken of "Hindutva" binding and uniting everyone. "Hindutva binds us together and our vision of Hindutva is not to oppose or demean anyone," he had said reports the news website.
Also Read: To save country, 'We have to stay away from RSS', says Akhilesh Yadav
The three-day "Bhavishya ka Bharat – an RSS perspective" conclave is being held by the RSS chief to reach many people across the country. The RSS is considered to be the parent organisation of the Bharatiya Janata Party and the ideological mentor to it. A Sangh of Hindu nationalist, RSS is also a voluntary Parliamentary organisation.
At the meeting, Bhagwat praised the Congress for their role in India's independence but also gave a stern reply to Congress chief Rahul Gandhi for his comparison of the RSS party with the Muslim Brotherhood.
"Congress played a big role in the freedom struggle and gave India many great personalities. Some of those people are still our guiding force," said Bhagwat, before adding that his organisation represents global brotherhood and not just a single community.
"The Sangh talks of a global brotherhood. This brotherhood envisages unity in diversity. This is the tradition of Hindutva. That's why we call it a Hindu Rashtra," he said stopping short of naming the Congress chief.
Mr Bhagwat also cleared any rumours that the organisation, a right-wing, influences government functioning ad said that it only mentions its observations on nationalist issues.
"Since the birth of the Sangh, it has decided to stay away from politics. It will neither contest elections nor participate in electoral politics. RSS functionaries cannot be office bearers of a political party," added the RSS chief.